4 Reasons Why You Should Invest in Commercial Cleaning This Summer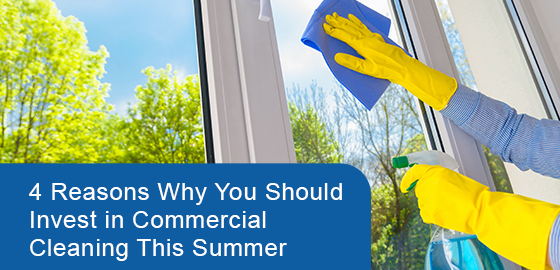 When you own and operate a commercial business, your image is paramount. However, there are other reasons you should consider commercial cleaning. From curb appeal to creating a safe and healthy work environment, commercial cleaning easily enhances your workplace without worrying about anything.
Summer is when everything is when people tend to pay the most attention to their surroundings. Businesses stand out in brighter, fresh-washed colours, and the clean smell of waiting areas is a talking point.
Yet why should you consider it? Let's look at the benefits to you, your company, and your employees.
KPIs Are On The Rise
Many businesses value their KPIs above many things. These KPIs or Key Performance Indicators will focus on many aspects of the company and allow the powers that be to see and measure how well the company performs.
Using a commercial cleaning service, especially in the summertime, will boost some of these indicators.
Commercial cleaning in Vaughan will help boost your professional look with an unmatched deep clean. Clients will remember the look, feel, and smell of a professionally cleaned office or waiting area.
The bonus to this is a knock-on effect that will trickle through the rest of the company.
A cleaner environment leads to employee satisfaction. Working in a clean area naturally increases the desire to come to work. People are happier working in clean spaces.
Clean environments boost happiness spreading from the employee to the customer or client. When people see others enjoying their work, they are more inclined to be relaxed around them and are, therefore, more willing to work with you.
When the client leaves, they are more likely to recommend you and your company to others, and your sales and reputation then increase, and who doesn't enjoy more sales?
Healthy Workplace, Happier Business
Winter can be long. With that, people tend to remain inside longer than usual, especially with temperatures below -30°C. However, it's not just us who get trapped inside buildings.
Allergens come in from the cold and take up residence in air ducts, filters, carpets, and even upholstery. Undetectable as they hitch a ride on winter jackets, boots, hats, anything they can stick to, they move on from us to their new home.
With a deep clean like no other, these allergens are removed and the air quality is vastly improved. This air purification leads to fewer people being away from work due to sickness, so you do not experience staffing shortages, and your clients will appreciate this.
Summer is also a fantastic time to ensure all your windows are cleaned from a build-up of salt, dirt, and more allergens. When you have to work inside, regardless of how good the AC is, you only want to work or be outside. Cleaned windows allow you to look out and still enjoy some of the sunshine while you work.
Commercial cleaning is not just limited to the inside of the building but also extends to the exterior. This cleanup will help you see if there is any damage to the walls, planters, parking lot floors, etc. so that you know what requires repair or a fresh coat of paint.
Hey Good Looking…
When fresh paint, repaired siding, and pest problems are handled, you look better and better to the public eye.
Your curb appeal has skyrocketed and taken you to new heights. Your employees are happy and healthy, your client base is increasing, sales are climbing, and your reputation is now putting you in the top 10 of the most sought-after businesses to work with.
Sounds like a dream? Well, in reality, this is possible. Commercial cleaning will affect your business; therefore, the investment pays for itself in the long run.
A lot of how people decide whom they want to work with by their company's overall appearance. We are guided more by how clean and polished a place looks over any sale they are running at the time.
Whether you are a small mom-and-pop shop or a large corporation doesn't matter. Commercial cleaning will help you enhance your curb appeal and more without lifting a finger.
Happy Budget, Happy Business
Commercial cleaning will save you time and money and make your finance department happy.
Working alongside someone who already has all the necessary products and equipment to ensure the best deep cleaning is done means you don't have to spend more money, probably outside of your budget, in buying things that you still have to pay others to use.
Commercial cleaners are trained to deal with stubborn stains on chairs or which polish is best for your conference tables. They also work outside your business hours, meaning that while no one sees anyone emptying the trash, they can enjoy the knowledge that it is taken care of. They can still conduct business with you.
Also, with your staff not taking as many sick days, you stop losing money and clients by being understaffed.
These may seem like small things, but they will significantly impact your budgets and yearly profits.
The RBC Clean
For more than 66 years, RBC Clean has been taking care of commercial and residential cleaning needs in the Toronto area.
Understanding the importance of a professional deep clean for you, your employees, and your overall business drives us to ensure you get outstanding service with each clean, especially following the recent pandemic.
When you are ready to hand your needs to someone who can help with your curbside appeal, call us toll-free at 1-855-493-9259 or request a quote online.