A Dirty Office Might be Harming Your Business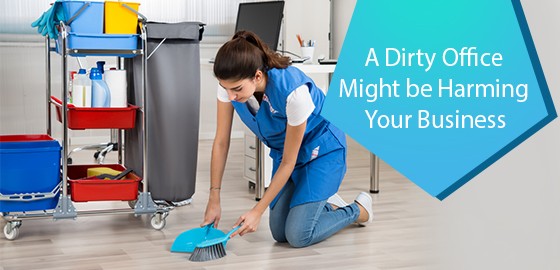 Your appearance can go a long way in getting you that coveted job, long overdue promotion, or even your first million-dollar business deal. Hard as it may be to learn, in this world of glitz and glamour, appearance is one of the keys to leap-frogging from being a nobody to somebody.
However, all your hard-won success and those ideas may come to nothing if you have a less-than-impressive work setup. Piles of paperwork, scattered office stationery, ill-placed office décor accumulating dust, and grime and grease in forgotten nooks of your office can easily chip away at the positives.
To ensure your workspace remains on the upswing, it is vital that you keep your office neat and tidy. This can be a demanding task, especially when you're struggling with tight deadlines and erratic work shifts. With professional business cleaners by your side, a clean, fresh, well-organized office can now be realized.
Be it regular cleaning services or a one-time urgent cleaning right before that big meeting, commercial cleaners can be your allies in maintaining a clean and sophisticated office environment.
The Benefits of a Clean Workspace
You could be spending thousands and fill your office with imported furniture, the latest technological equipment and more, but all this could be in vain if your office looks dirty and sloppy. Wondering how the clutter and the chaos in your workspace can be an eyesore that keeps clients away?
Read on to learn about the positives of cleanliness and how it can directly affect your business:
1. A strong first impression and enhanced productivity
Chaos in your office can have several negative consequences. Unorganized office spaces give out negative vibes and tend to create a poor impression among business collaborators. You cannot possibly expect to be trusted if you fail to take care of the basics, starting with how you manage your workspace. Overflowing bins, unwashed coffee mugs, scattered papers and magazines will repel your clients and make them question your professionalism.
A clean and clutter-free office can do just the opposite. Your professionalism might rightly reflect your passion for work but when clients see that creative decor and the impeccable work environment, they instantly take a liking to you. Additionally, being organized can help in saving time, leaving you to be more productive with things that matter.
2. Boosts Your Brand
Irrespective of how high-end your products or services may be, your entire brand can be judged on the basis of how you maintain your workplace. A well-decorated, tidy work environment can lead potential customers to perceive your brand better, elevating your business and boosting your brand's reachability. With most companies using employee feedback as one of the launching pads for promoting their business, a tidy and upgraded work environment becomes more of a must-have than a choice.
3. The well-being of your employees
The last thing you want is to lag behind due to sick employees. They could be falling sick too often due to the dusty air ventilation system or the dirty office equipment. People prone to allergies are the worst affected as they tend to sneeze all day or have a runny nose if the the office is not clean and contaminated with lint, pollen or dust. This unhealthy atmosphere might also trigger asthma attacks, shortness of breath, stuffy noses, or other respiratory issues.
Unwashed carpets or table mats are havens for worms, ticks, mice, and cockroaches. You might be unwittingly helping them to multiply by not disinfecting the corners, tables and the floor space of your office. You should also make sure that your eating area and the washrooms are cleaned properly because these act as magnets to disease-causing rodents and vermin when they are left unattended even for a single day.
All this clutter and chaos can not only upset the general harmony of the workplace but also be an unattractive sight for a visiting client to behold. You should, therefore, make it a point to personally supervise the cleaning of your office on a weekly basis, to ensure your employees are healthy and happy and can give their best at the workplace.
Evidently, a good first impression can create a lasting impression on your clients and help in gaining their trust, which is why you need to avail the best of cleaning services.
For more information about commercial office cleaning, call RBC Clean at 1-866-278-8208 or contact us here.