Commercial Cleaning vs. Janitorial Cleaning: What's the Difference?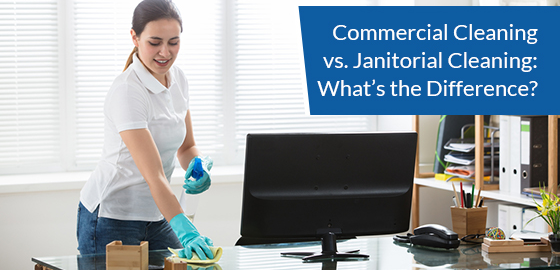 A clean and tidy workspace makes everyone feel more at ease and allows you to look more professional. Expert and experienced cleaning services will help to make this happen.
Your basic janitorial service will take care of the day-to-day cleaning needs of any business, while commercial cleaning can take care of the larger tasks. So, knowing what areas you need assistance with will help determine what service is best for you.
Every business is different, and, thus, every cleaning requirement is different. Regardless of the type of establishment (a gym or a school, for instance), some things need regular attention and cleaning. Additionally, commercial and janitorial services are not limited to office spaces.
By understanding your business and its needs, you can choose the service that provides the best benefits and is the most cost-effective.
Janitorial Cleaning Services
Remember being at school and seeing a janitor mopping the floors and emptying the trash? This is just one aspect of what janitorial services provide.
A janitor takes care of all the day-to-day routine maintenance and cleaning for your business. This is essential in keeping the work environment clean. Overflowing garbage bins or spilled food or liquids in the waiting areas are unsightly. So, any spills are taken care of quickly.
Janitors can also carry out basic maintenance such as fixing a leaking tap or door handle, allowing you to carry on with your business without having to call a plumber or another service provider.
This service can also be essential in high-traffic areas, such as gyms or even public restrooms, where cleanliness is paramount. Maintaining the cleaning and even sanitization of certain areas makes your clients or patrons feel safe and looked after, while reflecting your attention to detail.
The typical areas of maintenance for a janitor can include:
Emptying the trash

Carpet vacuuming

Hardwood, vinyl, and laminate floor cleaning

Dusting

Sanitization of high-traffic areas

Restroom and other public space cleaning

Basic ground maintenance, such as lawn mowing and weeding

Parking lot sweeping
For over 67 years, RBC Clean has provided janitorial services in Vaughan, the GTA, and southern Ontario. With the highest quality control and the ability to tailor your services, allowing you to get the janitorial cleaning you need, your business is in the hands of experts.
Commercial Cleaning Services
Commercial cleaning looks after the areas that may need attention during quieter times, such as outside of normal operating hours. These services often take care of the larger things that don't need to be maintained daily.
For instance, commercial cleaners look after big items such as HVAC cleaning and maintenance. This means they possess different skills, insurance, and in some cases, licences, allowing them to carry out a deep clean that doesn't need to be done regularly.
Since commercial cleaning usually works according to a set schedule, you can make sure that things are planned ahead of time. Thus, should something change and need extra attention, you can reach out to the cleaning company and advise them, allowing you to be worry-free about the sudden change.
Commercial cleaning can take care of the following:
Deep cleaning of carpeted areas

Deep cleaning of hardwood flooring, vinyl, and laminate spaces

Tile and grout cleaning in restrooms and showers

Window cleaning

Deep sanitization of high-traffic areas

Furniture and upholstery cleaning, such as sofas or comfy chairs

HVAC cleaning and maintenance

Seasonal grounds maintenance and landscaping (including clean up)
What's the benefit for you and your business?
Larger establishments, such as schools, for instance, will benefit from regular daily janitorial services, thus providing comfort to the staff, employees, and patrons.
Smaller businesses, like cafes, would benefit from weekly or monthly deep cleaning services provided by commercial cleaning companies.
You can even make use of both services. For instance, you can use janitorial services daily for basic and more immediate cleaning. Then, you can use weekly or monthly deep cleaning or maintenance of larger areas and items that need to be cared for out of hours (such as upholstery cleaning).
By working with a trusted company such as RBC Clean, you can tailor your cleaning services, take pride in their quality control, and take advantage of the latest cleaning technology and great attention to detail. This will keep your work environment looking spotless and glistening at all times.
Being a complete cleaning service, we understand the needs of commercial, industrial, institutional, and even recreational industries. This gives us an edge and allows us to ensure your specific needs are met.
Our professional team listens to what you need and then works with you to ensure those needs are met. With our services, you have access to a management team any time of day or night to address your concerns quickly. We employ full WHMIS training and are in compliance with SDS documentation.
We also implement recycling programs and environmentally friendly cleaning solutions. So, not only do we take care of you, but we look after the environment, too.
Being proudly Canadian-owned and operated, we know the high level of service and attention that our customers look for, and we provide this in every clean.
Let Us Take Care of Your Cleaning
The difference is simple. Commercial cleaning provides you with regular deep cleaning services that can be done weekly or even monthly, and look after the more complex areas of cleaning.
On the other hand, janitorial services take care of the day-to-day cleaning, emptying garbage, sweeping and mopping floors, and basic jobs such as fixing leaking taps.
The size of your company will help you to decide what is best for you. Regardless, RBC Clean will tailor your services so that you get the cleaning you need and stay cost-effective.
So, reach out to us today. Call our expert, friendly team at 1-855-493-9259, or contact us here for a quote. Let us take care of your cleaning so you can look after your customers.