Day Porter Service: What It Is and Why You Need It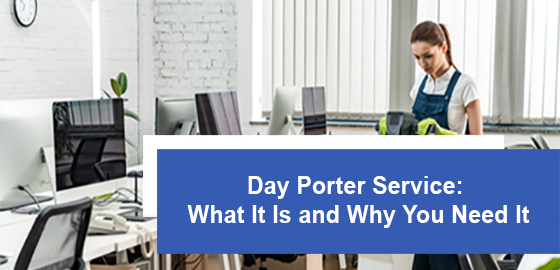 Running a business takes a lot of time, energy, and expertise. The same can be said for keeping your company's building in tip-top condition. A property that is dirty and falling apart will not make a good first impression on clients or guests. It's also not safe for employees.
Fortunately, day porters are available to keep your building in good repair and looking great. What exactly is a day porter, though, and do you really need one?
What is a day porter?
Day porters are responsible for the regular upkeep of commercial buildings. Their exact duties vary; however, they essentially perform daily cleaning and maintenance.
It takes a lot of effort to keep large buildings and commercial spaces looking their best. For one, maintenance is a big undertaking in properties of this size. Think about it; there are many windows to clean, cobwebs to remove, high traffic areas to keep clean, floors to be swept, and trash to be collected. It's a full-time job!
Enter your day porter. Their sole focus is to ensure that your property is clean and welcoming for employees and guests.
As their name suggests, day porters provide daily cleaning and maintenance services. They work during normal business hours to maintain the perfect appearance and safety of your commercial property. Consequently, day porters are used to working in large, busy areas without interrupting regular operations. 
Plus, day porters are trained in various cleaning and maintenance protocols. Moreover, day porters are expert multitaskers. They can handle numerous simultaneous tasks without delay or drops in quality.
What exactly does a day porter do?
The real question is: what do you need your day porter to do? Day porters have a varied skill set, which allows them to take on a variety of duties. Their services are tailored to your company's and building's requirements.
However, here are some of the services you can expect from your day porter:
Lobby maintenance
Cleaning common areas like lunchrooms, kitchens, and patios
Cleaning and restocking washrooms
Cleaning windows and door glass
Sweeping, mopping, and polishing floors
Removing trash and debris
Sanitizing and cleaning high traffic areas 
Maintaining entrances
Ultimately, no two companies are the same. That's why Royal Building Cleaning works with you to create a fully customized cleaning plan. Your day porter services are tailored to you and how your business operates.
Why You Need a Day Porter
Simply put, you want your commercial building to make a good first impression. Your company is not putting its best foot forward if your property is dirty or in disrepair. Furthermore, a poorly maintained company is a safety hazard for you, your employees, and visitors.
A building that is well looked after creates a positive work environment for your employees. Happy employees are better workers! Moreover, you should do everything in your power to keep your commercial space safe and in good repair. Otherwise, you're putting the well-being of your employees at risk.
Day porters also address minor repairs as they happen. If left unresolved, these small issues can become expensive problems. It's always best to make repairs as needed rather than turning a blind eye.
With the help of a day porter's commercial cleaning services, your building will be a polished and safe environment for employees, guests, and clients. Everyone who enters your property will have a positive experience, and daily operations will continue without issue.
What's the difference between a day porter and a janitor?
Day porters and janitors have a lot in common. That being said, they are distinct roles.
A janitor's main focus is cleanliness. Although some janitors may perform some handyman duties, their job usually includes cleaning, disinfecting, and removing trash. Generally, janitors work in areas where there is less foot traffic. In fact, they likely work outside of regular business hours. Consequently, they lack the necessary experience and training to work safely in crowded areas.
Ultimately, janitors and day porters work best in conjunction with one another. Most commercial properties will have both a janitorial contractor and a day porter.
Day Porter Commercial Cleaning Services in Toronto
A day porter is an essential part of your company's cleaning and maintenance team. These individuals can take on a wide variety of tasks due to their extensive skill sets. From polishing floors to cleaning common areas to minor repairs, day porters are there to ensure your company's daily operations run smoothly.
Day porters are used to working in high-traffic areas without disturbing business as usual. This makes them a valuable asset during regular operating hours.
Furthermore, every day porter's commercial cleaning services are entirely customizable. They're there to help in the ways you need most—so is RBC Clean.
Royal Building Cleaning offers professional day porter services to commercial clients in Toronto. We uphold the high standards you have set for your company by providing the utmost levels of cleanliness. Additionally, we keep your workplace safe for everyone.
To learn more about our commercial cleaning services in Toronto, call RBC Clean at 866-278-8208 or contact us here.