Debunking 5 Common Misconceptions About Commercial Cleaning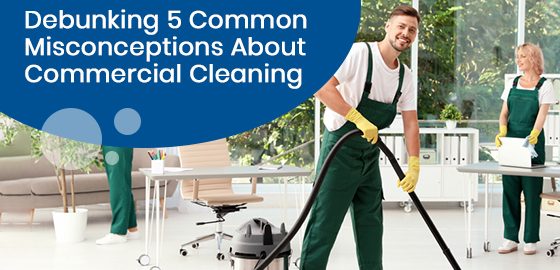 Commercial janitorial services can really put your mind at ease when it comes to properly, thoroughly, and efficiently cleaning the premises of your office building or retail space.
Sometimes, these services are absolutely necessary for a business to run smoothly and continue being successful. However, if you are a business owner, there may be certain reasons that you are hesitant to hire help for your cleaning needs.
Perhaps you've heard rumours of cleaning companies doing a poor job, or disreputable cleaners even stealing from businesses and employees.
Maybe you simply don't know enough about what these services have to offer.
There is a lot of misinformation surrounding professional commercial cleaning. Read below to help educate yourself on the common myths and better understand the five most common misconceptions about commercial cleaning companies.
1. Professional cleaning can't be done on a budget
Contrary to popular belief, you don't have to be rolling in dough to afford professional cleaning services.
Most companies will be happy to work with your budget and tailor a cleaning plan to your needs. It's perfectly acceptable to have a discussion with the cleaning company about what they can provide for you cost-wise.
Many of these professional cleaning services can actually save your business time and money.
This is because you and your employees won't have to be doing cleaning tasks anymore and can focus solely on revenue-generating ventures and expanding clientele.
If you are finding that professional cleaning services may be out of your budget, talk to your cleaning company of choice and be open about budget and the needs of your business.
2. Home cleaning products will do the job
Many at-home cleaning products just don't cut it at the office.
Keep in mind that a lot of these products are not eco-friendly, and can damage certain surfaces and materials as well. They may also be damaging to your health and that of your employees.
With professional janitorial services, you get professional-grade products that are safe for the environment and safe for use. You can have the peace of mind that you are doing right by the planet, all while keeping yourself and your employees safe from harm.
3. Only very dirty offices need professional cleaning
Let's face it: dirt and grime can hide in plain sight.
Dust and allergens that may not be visible can certainly exist in abundance in many different places.
It's not sufficient to only clean your office or building when it appears to be dirty. Dirt can lurk behind the surface and you definitely don't want to let it linger for too long.
Professional cleaning keeps your office looking clean and tidy so that it never gets to a point beyond repair.
4. You should delegate cleaning tasks to employees
Nothing will make your employees despise you more than delegating additional tasks to them that are not a part of their job description. And rightfully so!
Employees that work at your establishment need to focus on their jobs, and it would be thoughtless to expect them to do additional cleaning tasks on top of those responsibilities.
Additionally, they certainly won't clean as thoroughly as professional cleaners can!
When your employees are faced with additional tasks, they may not perform as well as you expect them to in their usual job. They may lack productivity and morale.
Keep your staff happy and the work environment a positive one by outsourcing your cleaning services.
5. Professional cleaners provide mediocre services
Another myth surrounding professional cleaners is that they don't provide great service.
You may have heard that the job being done is quite mediocre. However, this really boils down to communicating what you want and doing your research to ensure the company you choose is reputable.
There are certainly many high-quality janitorial service companies out there that can, and will, deliver on their promises. You just have to do the background work until you find someone that satisfies your requirements and has a proven track record of good ethics and quality work.
Don't be afraid of what a good, reputable, and professional cleaning company can do for your business.
At the end of the day, there are more pros than cons.
You just have to be diligent about where and how you seek these services, and always do your research to make sure you are outsourcing a reputable company. Read reviews and don't be afraid to ask questions. A good cleaning company will expect you to do this.
For more information on janitorial services in your area and about professional cleaning in general, please call RBC Clean at 1-866-278-8208 or contact us here.
Help is just around the corner for you and your business.