How Janitorial Cleaning Services Prevent Falls in Schools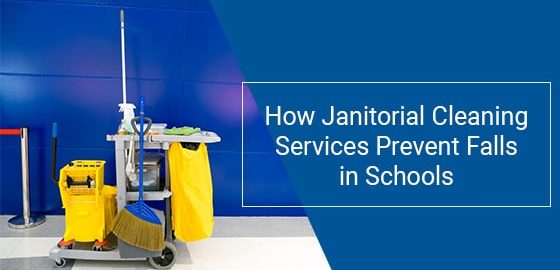 It takes a few years for children to attain proper balance. Combined with their hyperactive nature, this results in many cases of accidental falls. In fact, research shows that falling is the leading cause of non-fatal injuries for children and minors under 18 years. Slips, falls, and trips in school can occur at the entrance, along walkways, on the stairs, in the bathrooms, or around water fountains and other sources of water.
The more serious falls and trips can result in:
Strains or sprains
Cuts if the student falls on a sharp object
Broken bones
Back injury, in the event of forceful impact during fall
Slips, falls, and trips and the resulting injuries typically occur when there is a loss of grip between the footwear and floor surface, due to a contaminant like water, oil, or banana peel reducing friction. Trips are the result of hitting your foot on a low obstacle in the path, causing you to lose balance.
Fortunately, it's possible to reduce the incidence of injuries from falls by ensuring that floor surfaces in public spaces are properly cleaned. Professional janitorial cleaning services in Concord can help to prevent falls in schools and reduce the risk of associated injuries and damages by:
Keeping entryways dry and safe

Many slip and fall accidents in schools occur in common pathways that are left dirty with contaminants such as moisture or debris for too long, such as following rain, snow, or other accidents. Professional janitors can help to ensure that the entryways and paths leading to the entrance or from the exit are free from contaminants and dry at all times with proper and timely sweeping and mopping.

They can also recommend the use of absorbent mats placed around the entrances to the school to ensure that all kinds of muck on dirty footwear is contained in a limited area rather than allowing it to spread across the school.

Cleaning up spills

When children are involved, messes can occur anywhere, from the classroom to the cafeteria to the science labs. It's important to have cleaning personnel who are posted at the different areas of the school to ensure prompt response to any spills before they become a hazard. It is particularly important to ensure that risk-prone areas, such as around water fountains or in the bathrooms, have good floor surfaces with sufficient grip to protect against slipping even when wet.

Professional cleaners have the necessary tools and equipment to clean up all kinds of spills and keep bystanders away from the area until it has dried. This helps to mitigate any spills caused by small mistakes from escalating into bigger problems that may even lead to injury.

Storing student items properly

Students typically handle many items daily, including their books, clothing, and musical instruments. These items should always be placed at the designated areas when not in use to prevent any accidental falls or damage.

Professional janitors can help to ensure that everything is in order, and no items are lying on the floor or aisles, providing a clean and tidy environment that is hazard-free. Moreover, keeping the different areas clean also encourages the students to adhere to the set safety guidelines for storing their items safely and out of the way, where they won't be damaged or become a hindrance to others.

Ensuring good housekeeping practises

Regular cleaning programs help to prevent the build-up of contaminants and other hazards that may cause the students to trip, slip, or fall. Proper floor cleaning using the right tools and supplies helps to ensure that:

Contaminants are effectively and promptly removed
Cleaning product residue does not build-up
The floor does not become too slippery
Non-slip flooring maintains its slip resistance properties

Timely reporting of trip hazards

When cleaning around the school, professional cleaners can help to identify obstacles and trip hazards that may result in accidents and injury and report them promptly for immediate corrective measures. For instance, factors such as uneven edges to flooring and cluttered walkways with low obstacles can be easily overlooked as tripping hazards.

Cleaners can easily identify such risks, including covers or gratings, curled up linoleum edges, holes, trailing cables, loose carpet tiles or mats, and changes of floor surface level, and report them so the necessary corrective measures can be taken.

Mitigating risks

Cleaning personnel can help to identify common hazards around the school that contribute to falls and recommend strategies to address the. For instance, they are more likely to notice that some areas — walkways or stairs — are darker at certain times of the day, perhaps due to burnt or missing light bulbs or overgrown trees on the outside, and recommend increased lighting. They may also take the initiative to fix common hazards, like tacking down carpets that slide around or moving cords and cables that run across areas of high foot traffic for safety.
Other ways that janitorial cleaning services help to mitigate common fall risks include:
Putting up warning signs — with easy to understand pictures — when and where appropriate
Providing clean, absorbent walk-off floor mats — with bevelled edges to eliminate the slipping hazard — for anyone passing to dry the soles of their shoes
Ensuring proper lighting at the stairs and walkways, so the stair treads are easy to see and have slip-resistant treads, as required by local building code.
Where stairs have abrasive tape for slip resistance, they may replace it once it gets worn, loose, or torn
Ensuring that any handrails are firmly mounted and easy to grip
Placing absorbent rugs and matting in wet areas, such as around beverage or ice vending machines or drinking fountains
Being on guard to clean up spills immediately or for potentially slippery areas to prevent slips and falls
Using abrasive mats to trap mud, rain, and snow at the entrance, and routinely changing them for clean ones once they get saturated or dirty
Removing any tripping hazards in the walkways or stairs, such as cables or extension cords, or putting up warning signs in those areas
With custom janitorial services in your building, you can ensure that your school maintains the highest level of cleaning and sanitation standards while keeping the environment clean, safe, and happy for your students, teachers, and visitors.
To learn more about how your school could benefit from janitorial services, call RBC Clean at (905) 727-6891 or contact us here.