How Often Does My Business Need Window Cleaning?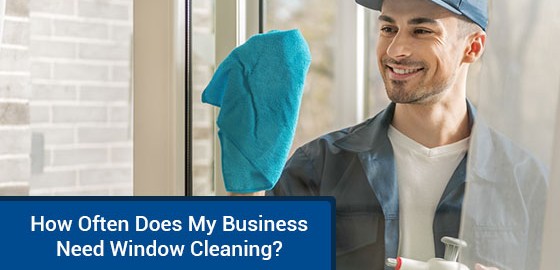 Your business requires a window cleaning service to ensure the exterior of the company is at its best and that anyone looking out of the building has a clear view outside. But many firms don't have a clear understanding of the window cleaning process and it's important to learn more about why window cleaning is vital for any company. In this post, we'll explain why this is, and try to determine the optimal frequency for window cleaning.
Elements of a Window Cleaning Schedule
Not all commercial buildings have facilities that require cleaning on a regular basis. Your windows should be cleaned according to specific elements, including:
Location: If the window is close to highways and other roadways, it's important that you have the exterior space cleaned regularly to prevent the build-up of dirt and grease associated with traffic.

Landscaping: With large trees outside your windows, you might wish to have the windows cleaned on a regular basis due to the debris left by trees. Both leaves and tree sap can remain on windows for many days and cause the breakdown of the glass if not removed within a short timeframe.

Weather Patterns: Another important consideration when evaluating how regularly to clean your windows is local weather patterns. If the weather in the area is particularly windy and debris has been moved across the building as a result, you might wish to consult with your local window cleaning company about choosing a more regular cleaning schedule.

Structure of the Window: Unique window designs and building structures can help your business to stand out on the marketplace, but it can also cause a number of challenges when it comes to maintaining your windows. If you have inset windows, for example, the window can quickly collect debris from the exterior space, which can damage the reputation of your company and make the building appear untidy.
Window Cleaning Requirements
In some cases, specific types of business have unique window cleaning requirements compared to other companies, and so it's important to know more about the impact your business could have on your window cleaning requirements. Below are several types of business for which window cleaning should be carefully considered:
Restaurants: Restaurants must ensure that the windows within their building are cleaned regularly because the grease and moisture circulating within the air can stick to windows. It's recommended that restaurants have their windows cleaned at least every two weeks to ensure the optimal appeal for their business. Restaurants appealing to families may have to commit to cleaning their windows more regularly as a result of their windows coming into contact with children's sticky hands and fingers.

Healthcare facilities: Another industry in which window cleaning takes a priority is in healthcare. Windows should be spotless and well maintained to minimize the spread of germs and other forms of contamination. Cleaning windows within patient treatment areas should be a leading consideration, as a clean window and a view of the outside can give the patient the comfort and the confidence to know they are being treated by professionals.

Retail Stores: Retail stores, too, must take their window cleaning processes into close consideration. Businesses that have lots of foot traffic need to be cleaned at least once per month to ensure that they retain the ideal condition for greeting customers and promoting products within the store. The retail business environment is also rich with competition, and so business owners compete with one another based on how their store appears to visitors.
Choosing a Window Cleaning Company
With the information provided regarding the importance of your window cleaning schedule, you're now able to determine the needs of your organization. The next step is choosing the right company to complete the window cleaning work. This involves working with qualified specialists across the marketplace and so let's look at how to choose a qualified window cleaning company.
Choose based on experience: The cleaning company's experience should be one of the first considerations when choosing the firm. Make sure that they have decades of background experience in the marketplace, and that they use this experience to help guide your window cleaning processes. A company with this level of experience can ensure the ideal return on investment within their work and can help you create a winning window cleaning strategy.

Review their qualifications: The qualifications of the window cleaning staff is another important consideration. Make sure you take the time to review the team's understanding of the industry and their expertise within window cleaning. What level of experience do they carry individually? Are they able to prove their understanding of complex window cleaning processes, such as high-elevation window cleaning?

Ask about additional cleaning options: Once your windows are clean it's likely that you will have more cleaning work for the company to complete. Ensure that the company is able to meet your full range of cleaning needs and can respond on short notice when an issue arises. Ask the company directly about the additional services they provide. This might include carpet cleaning work and specialized floor cleaning options.

Discuss their insurance levels: Window cleaning work requires the cleaning company to have comprehensive insurance in case of damages. Make sure that the company you select have significant insurance against common issues that might arise on the job.
Working with a trusted and experienced window cleaning company is the best way to set out the right strategy for your cleaning needs in the long-term. To learn more about making a window cleaning schedule and finding the right cleaning company for you, call Royal Building Cleaning at 1-866-278-8208 or contact us here.