How to Choose the Right Commercial Cleaning Company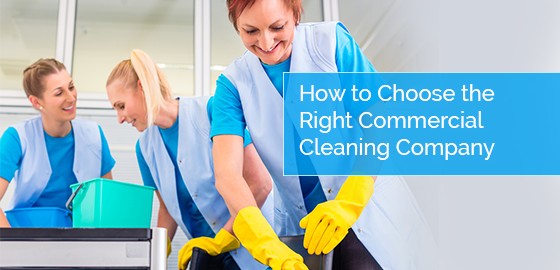 Maintaining cleanliness and hygiene in your office should be a top priority if you want success in business. Not only are business associates and customers impressed, it also provides a germ-free, wholesome environment for your staff to be at their most productive.
The best part is that you can get all of this done with a commercial cleaning company, rather than doing it yourself or hiring a janitor on a payroll. Choosing the right company can be a tricky task as they need to be reliable, trustworthy and experts at their job.
Here are a few factors you can keep in mind when deciding which company to choose:
1. Are They Suited to Your Business?
First and foremost, you need to make a list of things which need to be done. You might be a chemical company, a restaurant, or even a gym/fitness studio which needs a thorough cleaning every week. There are companies who specialize in just those areas. On the other hand, if you're only looking to get a one-time cleaning job, shortlist only those that are qualified to clean the type of business setup you have or are in charge of.
2. List the Services You Need
Ensure that the cleaning company you choose will be able to fulfill all of your requests.
3. Budget
Budgetary considerations are often deciding factors when picking a commercial cleaning company. Cost efficiency is the first rule of business and you need to set an allowance for cleaning of your office just like anything else. From the companies you shortlisted before, choose ones that fall in your budget. You can also ask for quotes from these shortlisted companies to narrow down your choices.
4. Check Reviews
Make sure that the people you choose are well-trained professionals. From the equipment they use, to their competence in the commercial cleaning department, conduct a thorough background check of each company. You can also inquire about their training programs. You can also check for the certifications and standards of the company. It's important that the company maintains solid standards of excellence and programs of certifications.
Additionally, you need to ensure that they take into account health measures and safety protocols. Reviews are an excellent tool to check up on their customer loyalty and will provide insights into their reputation.
5. Experience
Checking the experience of the company is also very important. Certain companies have years of expertise while some may just be starting. It's important that you hire a company that has at least five years experience. They will usually have a system where they can streamline all operations and issues during the cleaning process.
This also means that they will be experts in cleaning methods that newer companies might not even be aware of. Ideally, the company you choose should have specific expertise in your area of business.
6. Quality of Service
If the company is new, you might have some issues because of the lack of experience. Check if the company is clear about the services they have on offer. It is important that they use advanced technologies so that your office or commercial space gets the cleaning it requires.
Make sure rates are settled prior to cleaning so there are no hidden costs. Be mindful of the services they offer, and any disclaimers/conditions they may have with respect to the same. Also, see if the company is flexible with your timings, and are willing to work as per your schedule.
7. Insurance
Hiring a cleaning company that is insured protects you from incurring liability should an incident occur. Ideally, the company will have proof of insurance along with all the required permits and licenses.
General liability insurance, commercial vehicle insurance, and workers' compensation are a few ways in which reputable, professional cleaning companies insure their assets and services. If anything your office/business facility were to be damaged while the cleaning company is doing its work, you would not be liable for it.
8. Green Cleaning Methods
If your business or company projects itself as eco-friendly, then you must opt for a commercial cleaning company that uses green cleaning techniques. Green cleaning techniques ensure minimal use of chemicals and reduce the chances of harmful cleaning residues, which can harm humans and the environment.
Cleaning companies that fall in this category often use recyclable paper bags instead of plastic, green-certified chemicals, equipment that minimizes noise pollution, and follow health and safety protocols very strictly.
For more information on commercial cleaning services for your office, call RBC Clean at 1-866-278-8208 or contact us through here.