Medical Office Cleaning: 3 Details to Consider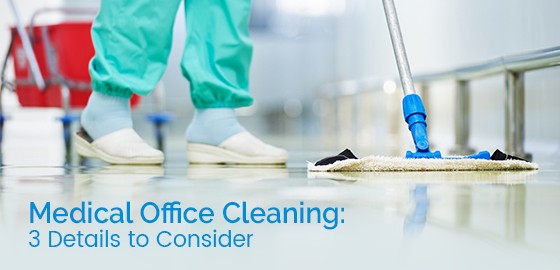 Cleaning is the most indispensable of all maintenance services, especially given that medical facilities are breeding grounds for germs and diseases and are exposed to high levels of contamination. From preventing contamination, to helping your medical organization maintain its reputation in the market, there are a number of reasons why a commercial and professional cleaning protocol must be applied.
As there are numerous safety and compliance issues that must be taken care of in a medical facility, as well as the far-reaching consequences resulting from sloppy medical cleaning, it is vital that your cleaning company is qualified and experienced enough to do an excellent job in a time-sensitive manner.
Cleaning Products, Tools, and Costs
Even in the case of medical office cleaning, the kind of products and equipment used vary from facility to facility.
Professional medical cleaning services generally include:
Spraying disinfectants for floors, tables, chairs, and office area
Clearing off trash cans
Sweeping, vacuum cleaning, mopping
Disinfecting bathrooms and sinks
Disinfecting patient and waiting area
Depending on the type of facility you own or manage the products and tools used will differ, and so will the resulting costs. For instance, your cleaning company may need to use different products for dental offices which take up only a fraction of the time required to disinfect a doctor's office where people frequently dispose of blood and other bodily fluids.
Not only will your cleaning company need to be specifically trained cleaning these types of facilities, but also be prepared to opt for slower cleaning routines in order to perform a thorough job. A certified and experienced Janitorial Service & Office Cleaning provider would know how to approach the job without much hand-holding at your end.
Choosing a Medical Cleaning Company
By now you may understand the importance of choosing a reputable and experienced medical cleaning company. However, identifying a medical cleaning service requires you to do more than just looking them up a directory. While asking at other medical facilities in your area for referrals does help, you will need to do some basic homework to ensure you've chosen the right healthcare cleaning service company for your specific needs.
These are certain details to take into account when identifying an experienced medical cleaning service provider:
1. Product Selection
Every professional cleaning service provider has a set of recommendations of cleaning products they use. These may include hospital-grade disinfectants and other non-toxic products for floor cleaning, kitchen, washrooms, and surrounding areas. You will need to ask questions regarding the items your company intends to use for office areas, computer systems, patient rooms, operation theatres, in addition to confirming if terminal cleanings would be required for any area within the premises.
An experienced medical office Janitorial Service & Office Cleaning will have the right tools and equipment for such cleaning and will not hesitate to discuss them with you upfront.
2. Regular Monitoring and Quality Inspections
Unlike other commercial enterprises, medical office cleaning is not a one-time affair to be invested in and then forgotten. To ensure the cleaning routine is holistic and can deliver tangible results in the long term, inspections of the cleaning facility must be regular. It is important to examine if your Janitorial Service & Office Cleaning provider has well-documented these particulars, such as setting out the frequency of quality inspections, and who would be supervising them. Understanding quality-corrections and adequate training of cleaning personnel are essential, as is a high degree of transparency and accountability.
3. Communication
Any discrepancy or emergency — even a change in the tasks — needs to be reported quickly to avoid inconvenience, wastage of resources, and incidental damage. Your cleaning company needs to provide formal lines of direct communication to meet these objectives. They must specify how they can be reached, who will respond to such communication, and the response time.In the same vein, you must also provide the primary as well as backup contact information of your organization, and the designated personnel to respond to any communication.
Identifying the right healthcare cleaning service company can be hard, but is not impossible. To ensure that the health and safety of your patients, hospital staff, and visitors is in safe hands, you must choose a cleaning company that is experienced in the business, is industry-certified, and follows best practices, and trains its employees regularly.
For more information about commercial and Janitorial Services & Office Cleaning for your medical facility call RBC Clean at 1-866-278-8208 or contact us here.