Commercial cleaning entails a lot more than just appearance: it's also about using the right cleaning products. With so many cleaning supplies to choose from, it can be a little hard to identify the really important items that you need to keep the office clean versus the products you want simply because their advertising departments are doing a good job.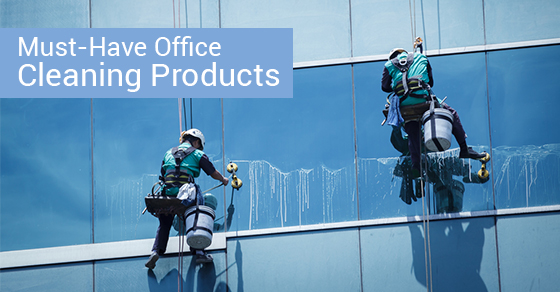 According to a recent survey by Facility Cleaning Decisions Magazine, many facility managers agree that the top cleaning supplies for proper hand hygiene and surface cleanliness are paper towels and tissues, disinfectants and sanitizers, and hand soap, in that order. Other items that facility managers consider to be important include:
Cleaners and degreasers – all-purpose formulations can be used to clean and remove stains on many types of surfaces including tile, porcelain, and stainless steel

Brooms and brushes – you need at least two of either a wide broom for sweeping heavy debris, and/or a standard one with stiffer bristles for regular sweeping of dust and debris indoors

Floor care chemicals – these are specific to your types of floors for stain removal without damaging the finishing

Carpet care chemicals – if there are carpets in your office, you should consider getting the necessary chemicals, including pre-spray solutions, shampoos, pre-treaters, deodorizers, bonnet scrubbers, and stain removers, among others

Bleachers – bleachers and their products are highly toxic, though necessary for cleaning and disinfecting surfaces, especially in the bathroom – sinks, toilets
For convenient cleaning, you require a few more supplies, including:
 Stick vacuum cleaner – the cordless, long-reach wand is perfect for cleaning hard to reach spots in tight corners or to wipe dust bunnies under furniture
 Slim duster – long and slim enough for cleaning hard to reach places, like under and between cabinets and appliances
Arm length rubber gloves – considering the amount of scrubbing work involved in the office, the cleaner should keep their arms and clothes solution free using puncture-resistant rubber gloves. They are long enough to cover past the elbow, and the palms are textured to avoid slipping
 Microfiber mitt – you could use a soft microfiber glove to clean mirrors, dust furniture, swipe electronics, and do much more.
Window cleaner – these cleaners usually contain an ammonia base that can easily wipe off dust, dirt, and oil that accumulate on glass without streaking.
Lastly, you need a janitorial cleaning trolley to help you hold, organize, and transport your cleaning suppliers. It could be a hand held caddy or cart on wheels depending on the items you need to move with from one location to the next.
For more helpful tips on how to keep your office clean all year round, connect with RBC today!