6 Reasons Your Business Needs to Hire a Commercial Cleaning Service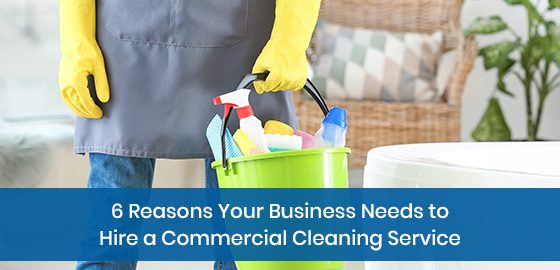 Business is like life; it functions better when things are clean and organized. At RBC Clean, we often receive questions about our office cleaning services in the GTA. While smaller businesses sometimes choose to delegate cleaning responsibilities among staff, many companies are turning to professional services to get the job done right and minimize time wasted.
Here, we've compiled a list of 6 reasons why so many Southern Ontario businesses are choosing to bring in the experts.
No need to buy extra cleaning equipment/supplies

One of the best reasons to turn to a cleaning professional is the amount of money you save on purchasing cleaning equipment and supplies. While a bottle of window cleaner won't break the bank, bringing in carpet steam extractors, upholstery cleaners, and floor machines can be costly. There's also the added confusion of determining which cleaning products are best for an office environment and what tools complement them.

Hiring a professional office cleaning service guarantees that all the appropriate products and equipment are used at your office regularly, get the job done, and the result is a clean office for your staff when they arrive the next morning. No impromptu runs to the supermarket for a spare mop, and no need to drain the office petty cash—it's all included in your cleaning service.

Improves office morale and productivity

Nobody likes working in filth. No matter how tidy an office is, dust and debris build up over time. From the dirt being tracked in on shoes to the moisture in the air, leaving watermarks or cloudy glass, to the sticky fingerprints on desks and cubicles following afternoon lunch—these things accumulate to create an unpleasant work environment. Not only does it make a workspace less appealing aesthetically, but it can create germs and bacteria that cause sickness.

Cleaning regularly using a professional office cleaning service means degreasing, dusting, sanitizing, and disinfecting all the areas that your employees spend most of their days. It can increase mood, morale, and productivity.

Keeps your employees safe from germs and bacteria

Returning to the subject of sanitization, the number of germs and bacteria that circulate the average Canadian office space is astounding. Between the outside and inside influences, your staff is spreading microorganisms from surface to surface. Whenever somebody touches a desk, doorknob, light switch, computer screen, keyboard, mouse, microwave door, telephone, table, copy machine, printer, fax machine, or shredder, they leave some of these little germs behind for the next employee to pick up.

Regularly sanitizing and disinfecting your space reduces the number of sick days your employees require due to interoffice bacteria and viruses. After all, a clean space is a healthy space!

Professional cleaners are trained in office sanitization

It's easy enough to grab some wipes and cleaning liquid and disinfect a keyboard or clean out the break room microwave, but your staff isn't trained to clean - they're trained to operate your business successfully. This means your staff may not clean everything well enough to eliminate bacteria and viruses. They may use improper cleaning products and strip paint, ruin electronic equipment, or leave bleach stains on the carpet. When you use an office cleaning service, you can rest assured that each cleaning professional is trained in the appropriate methods, products, and tools to keep your office looking and smelling great without damaging anything.

Fewer disruptions during office hours

Delegating workloads outside of your employees' expertise forces them to take their eyes off the ball, so to speak. Sure, rotating cleaning duties between staff could save some money on hiring an office cleaning service, but it also cuts out the essential time spent working toward your company's goals.

Hiring a professional team of cleaners keeps your employees focused on work within the office, creates fewer disruptions during office hours, and allows you to set your cleaning schedules for the most convenient time for you and your staff.

At RBC Clean, we understand that no two businesses are the same. Some facilities may require day porter services to clean and sanitize contact surfaces throughout common areas throughout the day in addition to night cleaning. During peak hours of operation it can be more challenging and disruptive to clean personal desks and clearing the trash bins.

Instead, you can set your cleaning schedule for the end of the day, or after everybody's gone home. Our team is able to provide a more thorough cleaning service, disinfecting and cleaning your office top to bottom, without additional disruption to your staff, so everybody feels fresher and works better in the morning.

Customized cleaning preferences

Not every office needs a deep cleaning every day. Sometimes, a quick wipe of the break room, emptying of trash and recycling, and a vacuum or sweep is enough to get your team through the week. Other offices prefer deep cleaning two to three times a week. The great thing about hiring an office cleaning service is that you can customize the cleaning services to meet your individual needs.

You choose the rooms, type of cleaning, and even the supplies you'd like to see used in your building. For example, today, some businesses are leaning more toward being green and sustainable. Using green cleaning solutions is one option your company can choose when selecting a cleaning team. Other businesses prefer a truly aggressive clean, due to the types of equipment used or tasks completed throughout the day. This type of office might choose harsher chemical cleaners and deep cleaning equipment to be utilized regularly.
The bottom line is; it's your office and your choice as to what your cleaning team works on during each shift.
Contact RBC Clean for More Information
As a local Ontario company, RBC Clean is proud to service our friends and neighbours. We strive to improve our community, support the local economy, and create workspaces where Ontarians feel safe and happy.
If hiring a professional office cleaning service sounds right for your company, we invite you to give us a call at 1-866-278-8208. Our team of friendly cleaning professionals are always happy to meet new clients or hear from existing ones.