Construction sites aren't normally synonymous with cleanliness, in the sense of being dust and dirt free. However, in order to be a safe place to be, a construction site should be well-organized and free of trash and debris. It's important to keep your employees and visitors safe when on-site. Tools should be located in their proper places, and waste should always be placed in the proper receptacle.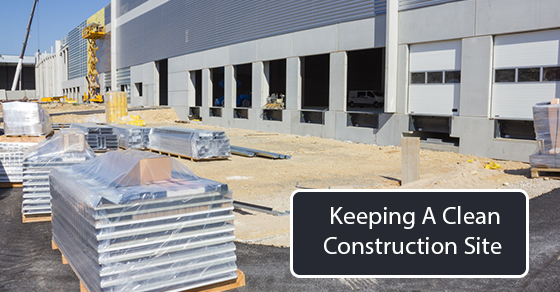 Make Safety a Top Priority
Machines and tools should be stored properly, as should hazardous materials. Hazards should be minimized and clearly identified on a work site. There should be an area designated for hazards and a place to discard things like stray pieces of lumber which could contain nails. Having a dumpster on-site might be a good idea. When a construction site is orderly, employees work more efficiently. If you find keeping a construction area clean yourself too difficult, you might want to enlist the services of cleaning professionals.
Creating More Amenable Conditions
Having dumpsters on-site will ensure a more orderly construction area and will encourage employees to be more mindful of debris. In addition to having both workers and visitors wear hard hats, hazardous areas should be clearly posted. Ongoing maintenance of these areas will lessen the probability of accidents happening.
Cleanup Tasks Should Be Assigned
If your whole crew pitches in to keep things neat, cleaning professionals, when called in, won't have what seems like a monumental task. Someone could be in charge of disposing of materials that are hazardous, while someone else could put away tools at the end of the work day. Assigning these types of tasks on a rotating basis will ensure they get done.
Your Employees Will Thank You
Here are some reasons cleanliness on the job site is important to your workers.
It allows the team easier access to various areas.

They feel more secure when they don't have to be mindful of what they might step on or bump into.

There is less potential that they may get injured by rogue pieces of debris.
Leave the Area Clean
Once the last nail has been hammered in and the last piece of lumber sawed, it's important to leave your site as clean as possible. How you leave a job site speaks volumes about you, and will impact your reputation. You want your clients to be happy, not only with the job itself, but with your work ethic. A final cleaning could mean vacuuming or sweeping, washing off any surfaces, cleaning windows and the like. You'll leave a good impression, and word of mouth is the best advertising.