The Importance Of Construction Site Cleanup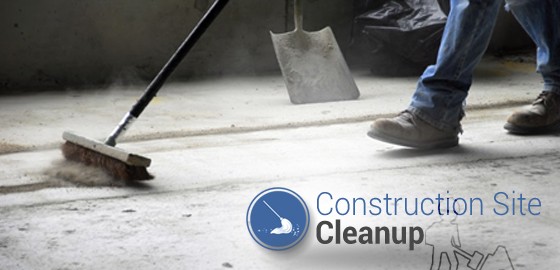 Here's a thought unfortunately all too common among homeowners or business owners who have just completed a new construction or renovation of their property:
"The construction is done, the renovation completed, but yikes, the mess this project left is overwhelming! Who would have known that the demolition and construction can create so much dust! Every nook and cranny is hosting piles of dust and some sneaky scary insects who had a chance to come and squat there while the building was opened up. All the surfaces are left with a thick film of dust, and all kinds of debris and leftover construction materials are crowding up the space. There is grit debris and stains on my newly laid floor surface, and smears and grime on furniture and appliances. It's more like a post-war zone than my new dream property that has cost me so much money to create. With this mess, it's hard to see the beauty of the new space."
A Post-Construction Cleaning is Really a Job for the "Big Guns"
A post-construction cleaning is not a job for your regular run-of-the mill cleaning routine. Your trusty household vacuum cleaner and your well-used kitchen mop and duster will not measure up in this situation. You need the big guns to come out for this job -- professionals with the right tools and techniques, and with specialized knowledge of local laws and ordinances for the disposal of construction materials. The property has to be detailed and sanitized – thoroughly scrubbed so that no trace of gyproc dust, germs or toxic materials are left to potentially cause harm for the residents of the new or renovated property down the road. The property must be left clean and safe according to code. This is especially important with large scale business sites, as highly hazardous materials may have been involved in the construction.
Dusting, Cleaning, and Sanitizing
You may be no stranger to regular household cleaning chores, so you probably think you're up to this job, no problem. But a post-construction site is another world altogether. There are so many details that cannot be overlooked if you want to eliminate all the harmful dust and grime from your newly constructed property.
Here are some areas that will require meticulous attention:
All walkways, entrance ways and patios need to be thoroughly swept
All exterior fixtures should be power washed or wiped down
Bathrooms: floors need to be scrubbed, baseboards and tile grout cleaned, toilet bases and seat joints wiped, and mirrors shined
Kitchen: appliances need to be pulled out and washed inside, outside and underneath; kitchen cabinets need to be wiped down inside and outside, and the backsplash washed
Living areas: furniture must be pulled out and floors and carpets underneath vacuumed and mopped;baseboards need to be washed; all furniture needs to be dusted and polished, and any drawers emptiedand dusted; upholstered furniture need to be thoroughly cleaned with special vacuums that suck out germs and dust from the foam inside
Other rooms: cleaning of closets and garages, and other storage spaces
Utility room: cleaning of washers and dryers – inside and out
All throughout the property: cleaning of windows and ledgers and removal of stickers from new windows,vacuuming and cleaning of carpets; dusting and shining of lights, door knobs and hinges; elimination of the new construction smell; cleaning doorknobs and light switches; dusting of devices like T.V, DVD players,DVDs, cassettes, books and other decorative items and bric-a-brac
Removal of insects and spider webs from interior and exteriors
Spraying the place with anti-parasites solutions to diminish the reappearance of cobwebs
Disposal of large, left over debris, garbage, and materials
All in all, a construction site cleanup is much more of a job than meets the eye. Almost as complicated as the construction itself. Time to call in the professionals!