The Importance of Periodic Cleaning Services to Maintain Your Facility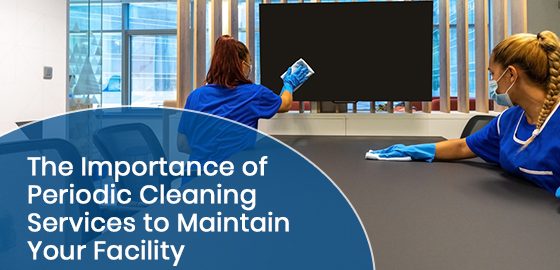 During the pandemic and even in its aftermath, it's especially important for employees, customers, and guests to enjoy a clean, sanitized, and clutter-free environment whenever they enter your facility.
Whether it be a building, retail, or commercial space, your facility should make any visitor feel comfortable and assured that they are not putting themselves at risk by being there.
While not every business requires thorough and professional cleaning on a daily basis, each will at least require some form of periodical cleaning to keep the atmosphere free of dirt, dust, allergens and to comply with health and safety guidelines.
If you are on the fence about adding periodic commercial janitorial services to your business, then read below to discover some of the best ways that these services can save you and your employees time, effort, and money.
Proper Procedures and Safe Products
One thing that a professional cleaning company can offer that amateur cleaners simply can't, is the use of safe, eco-friendly, and effective cleaning methods and products.
There are many products out there that are not good for the environment or the human body to come in contact with regularly. Sometimes, even using the wrong products on furniture and appliances can cause them to become warped, discoloured, or even stop working as intended.
A professional cleaner can differentiate between the good and bad products. They can ensure that proper cleaning procedures and safety measures are always being used.
From a liability standpoint, professional cleaners can save you stress and money, as they will be responsible for ensuring proper cleaning practices and products.
If you attempt to clean your own building or have employees do it, you could be held responsible if something goes wrong. Be on the safe side and hire the professionals who actually know what they are doing, and can answer any questions about products and their intended use in your office or building space.
Your Employees Will Thank You
Who doesn't prefer a clean, fresh working environment?
Your employees and staff will notice the difference when you outsource your cleaning and let professionals take the wheel. They will be the ones to benefit from fresher air, reduced dust and dirt, and a cleaner environment overall.
They will feel less inclined to do their own cleaning throughout the day now that this is being taken care of, and that will lead to increased productivity and boosted morale amongst your staff.
This also helps establish a great relationship between you and your employees, as they will learn that they can trust and depend on you to make their health and safety a top priority!
Builds Brand Reputation
Just like with your employees, a clean environment will also have your customers and clients appreciating you more. They won't hesitate to do business with you, as they will feel comfortable visiting your establishment and using the facilities.
A dirty or unkempt work environment can often deter new clients, and can definitely be an off-putting, unprofessional experience.
Build your brand and foster a great reputation by keeping your facilities clean and sanitized, so that guests will learn to expect that level of thoroughness and dedication from you and your business.
Keeps a Safe, Healthy Environment
Of course, regular cleaning, disinfecting, and sanitizing of high-touch surfaces is important, especially during the pandemic.
You have a duty to those using your facilities to comply with health guidelines and regulations, and to keep your building clean. This helps to promote a safe, healthy environment free of dust, bacteria, and allergens that could make employees sick.
Keep yourself and those around you safe by prioritizing periodical cleaning services in your office such as carpet and upholstery cleaning, sanitizing and disinfecting, window cleaning, and more.
Looks Do Matter
First impressions are key, and in order to make a good one, looks and aesthetics do come into play.
With professional cleaning services, you can ensure the bulk of the work in making your building look good is already done before you even walk through the front door.
With everything clean and already sparkling, all you need to do is showcase your brand or business personality with the right office décor, furniture pieces, and design.
A Thorough Clean, Every Time
With periodical cleaning services, you can expect a thorough and detailed clean every time.
If you aren't satisfied with the job done, you can discuss this with your cleaning company, as they will often try and make amends to keep you happy and your workplace gleaming.
The good thing about professional cleaning services is that they will always work around the needs of you and your business. Whether you need cleaners to come in daily, weekly, or monthly, is completely up to your discretion.
Working out a predetermined schedule with your office cleaning company will help you achieve efficiency and convenience.
For more information on commercial janitorial services, please call RBC Clean at 1-866-278-8208 or contact us here.
We are the premier destination in the GTA for any commercial cleaning services that your business may require. Contact us today to learn more about how we can help your business thrive.