Tips for Finding the Right Janitorial Services for your Gym/Fitness Centre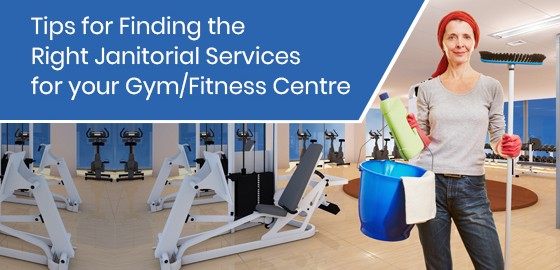 Are you always getting sick? Is there the musty smell of sweat hanging in the air at your fitness facility that seems impossible to eliminate?
Your gym or fitness centre is a great place to get fit and lose weight, but it could also be a powerhouse for bacteria to breed and spread from person to person. Every piece of equipment is touched by countless individuals hard at work and, with 80% of germs spread via unsanitary services, you could be unknowingly infecting yourself and others in the gym.
The best way to combat this issue and keep your gym or fitness centre sparkling clean is by hiring a trained professional.
Are you looking for tips on finding the right janitorial services for your facility? Below are just a few tips for helping you make an informed decision.
Knowing the Kind of Services You Need
Perhaps the most essential tip to choosing a janitorial service for your gym or fitness centre is knowing the kind of services you require. Maybe you are looking for a one-time deep clean, a daily service, or a service that could be on-site all the time to take care of sanitizing equipment. Knowing your needs can certainly help you narrow down your search.
For instance, at RBC Clean, we are typically hired to provide general cleaning of floors, washrooms, showers, mirrors, and perform other tasks, like dusting. In our experience, fitness facilities usually have their staff who are responsible for cleaning the equipment. However, we can provide a day-porter service where a cleaner is on-site throughout the day to wipe down equipment at an additional cost.
Identify What is Important to You
Another vital tip to consider when finding the right janitorial service for your gym or fitness centre is what qualities are important for you to find in a cleaning service. What are their hours, service flexibility, rates, and product quality?
The great thing about selecting RBC Clean is that we offer a variety of services that allow you to pick and choose how much you want to spend, and we adapt our hours to fit your needs. As stated above, we even offer an in-house service that gives you the option to have one of our highly qualified employees on-site right when you need it most.
Below are just a few facts about what RBC Clean can offer you and your business:
We design flexible programs tailored to your specific requirements.
Nightly/daily, biweekly, weekly, or monthly services to suit your needs.
We conduct on-site supervision of cleaning teams.
Access to management staff maintained 24/7.
Communication log books are maintained and available at your sites.
Full insurance, bonding, and Workers' Compensation coverage for your protection.
Modern equipment and state-of-the-art techniques are employed.
We implement and carry out comprehensive recycling programs.
Environmentally friendly cleaning systems are available upon request.
Full WHMIS compliance and documentation is maintained.
Our centrally located office and warehouse conveniently serves our customers cleaning and product needs.
During office hours, a courteous staff will personally answer your telephone calls.
Royal Building Cleaning is 100% Canadian owned and operated.
Management of Royal Build Cleaning is available for no-charge consultation anytime.
Go Green: Environmentally Friendly Cleaning
Global warming is a hot topic and something that should not be overlooked when choosing a janitorial service for your gym or fitness centre. With an increasing number of professional cleaning companies "going green", it is important to look at what services they provide and if they align with your needs and ideas.
RBC Clean is committed to satisfying customers. And that means offering only the highest quality products with the environment in mind. At RBC Clean, we pay special attention to the environment, both in the products we use and those we sell. We want to minimize our environmental footprint and do our part to make sure the earth remains a healthy place to live. Our leadership position requires that we remain up-to-date with new developments and technology that affect our industry. Delivery of our services with efficiency and economy, while protecting the environment, is the way we operate.
We also offer a cleaning program we call RBC Green.
Our commitment to the environment will minimize our footsteps on our planet for future generations to enjoy!
RBC Clean is a full janitorial company offering service to commercial, industrial, institutional, and recreational facilities throughout Ontario. With over 60 years of professional experience, we are a clean team that you can trust to get things done right!
Want to keep your gym/fitness centre clean? Look no further. Contact us to talk to a representative today!