One of the most common challenges for many office managers is choosing a cleaning specialist to help maintain their workspace. The choice of cleaning company you make can have a lasting impact on your working environment. It can make the difference between a productive working environment, in which team members are collaborative, and one in which team members are continually taking time away due to illness and are unable to complete their working duties. To help guide you in selecting a qualified cleaning service, we're highlighting our tips for getting the most from your cleaning company in this latest post.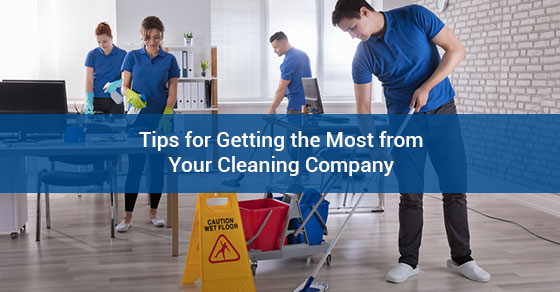 Communicate Priorities Clearly
One of the most common mistakes business owners make when hiring cleaning companies is that they don't communicate their priorities to the company. This can often mean that the company and their cleaning staff don't have a clear understanding of their working role. For example, if you require the boardroom to be clean at a specific time during the week but this priority isn't relayed to your cleaning company, you'll likely be disappointed. Make sure the cleaning company understands their role in the organization and is aligned with your priorities.
Have a Point of Contact
Nominate one person from within your organization to be the point of contact with the cleaning company. This can help to ensure there is no miscommunication about the tasks that must be completed during cleaning. Once you have nominated the point of contact, make sure this person understands their working role and that you're able to meet with them regularly to discuss the company's work. This person should be assigned to evaluate the cleaning services and to respond to any issues that might arise during the completion of the working contract.
Schedule Regular Reviews
One of the reasons that so many companies have difficulty managing their cleaning service providers is they don't bring up issues as they arise. This can often mean that a problem is noticed immediately but is not brought to the attention of the cleaning company before it's too late. Make sure that you schedule regular reviews with the cleaning company so that you can discuss their work with them and pinpoint any challenges that have arisen. This will also allow the cleaning company to communicate any issues they've found. It's imperative that you keep the channels of communication open as this can be a great way to improve working efficiency in the months ahead.
Discuss Timing
The timing of the cleaning work should be a leading consideration when speaking with cleaning companies. Are they able to accommodate your scheduling requirements and do they foresee any challenges in the future that may arise due to scheduling conflicts? For example, most business owners require the cleaning company to work late in the evening and early in the mornings so they're not cleaning while staff are using the facilities. If the cleaning company is unable to accommodate this level of scheduling flexibility then you'll want another option. Ensure that you have a clear understanding of the cleaning schedule before moving forward with your chosen company.
Questions to Ask When Hiring a Cleaning Company
Now that you know how you can get the most from your cleaning company once they begin their work, let's look at the questions you should consider during the hiring process. Addressing these questions as early as possible will ensure the best results for your working team.
What experience does your team have?
Does the cleaning team have the right experience for your industry? Are they able to point to a long background as a cleaning provider? When discussing their experience, find out what they've learned as a result of their time in the industry and the values that have become instilled in their brand as a result of this working history.
What is the total cost for the service?
Finding out the total cost for the service should be the priority when choosing a cleaning company. Many of the leading firms compete on cost, and finding out how much you're going to pay over the course of the working contract can help you consolidate expenditure significantly. Obviously, this isn't the only element to consider but it should be a foremost consideration for those in the decision-making stage of the process.
Do you offer specialized cleaning services?
Try to find out as much as possible about the flexibility of the company's cleaning services. Are they able to commit to specialized cleaning for your industrial equipment? What about their carpet-cleaning services? Are they able to clean delicate materials with precision on a tight schedule?
What would make your work easier?
Making sure that the cleaning process is as efficient as possible should be your goal. It's imperative that you work to make your cleaning team's job easier. Ask them what steps should be taken to prep the space and how your team can play a role in this process.
Are you insured?
The cleaning company you work with should offer liability insurance for their staff. Otherwise, you, as the owner, may be held responsible if any issues arise during the course of the cleaning work. Find out what insurance the company carries and whether this coverage level can meet the needs of their cleaning staff as they complete work in your property.
Making sure you choose the right cleaning service for your office building is the best way of maintaining your commercial property. To learn more about getting the most from your cleaning company, call Royal Building Cleaning at 1-866-278-8208 or contact us here.