What Are The Signs Of High Quality Janitorial Services & Office Cleaning?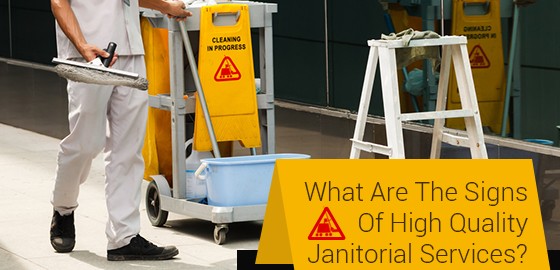 Offices, retail stores, factories, schools—these edifices need to be cleaned. You can't spend your time cleaning your office. How would you get any work done? Instead, you turn to a Janitorial Service & Office Cleaning. To be sure that you're getting a high quality company, look for these signs:
Professional is the only way to go
When choosing a Janitorial Service & Office Cleaning, it's important that you find a company that is professional. This doesn't mean you can't work with a startup cleaner, but when you call them, the person on the other end of the line needs to be polite. They also need to return your phone call in a timely manner. If every time you call you get an answering machine, this company is either too busy to take on new clients or doesn't have the resources in place to do so.
Accommodation is key
If you run a business, it's safe to say that you don't want your employees distracted by the cleaning crew while they're trying to work. The sign of a high quality Janitorial Service & Office Cleaning is that they're willing to work around your schedule. This might mean showing up at the crack of dawn and working tirelessly until your employees show up to start their workday or pulling an overnight shift. If a cleaning company only operates between the hours of 9 to 5, you probably have no use for their services.
Don't break the bank
With a Janitorial Service & Office Cleaning, it's expected that they'll cost more than a residential cleaning company because of the larger area that needs to be covered. However, that doesn't mean you have to choose the most expensive company out there to clean your building. There are affordable Janitorial Services & Office Cleaning that will do an impeccable job.
Trust in the staff
You need to be able to trust the people you're leaving in your building when you're not there. A well-run company will send janitorial personnel that you are familiar with. Unless someone is sick and can't come to work, you should expect to see the same janitorial staff each time. If you're unsure of who is going to show up for each cleaning shift, it's a sign that the janitorial company is poorly run and experiences way too much turnover.
Requests are granted
Most companies will use safe cleaning products; though, there are some industrial cleaning solvents that may not be as eco-friendly as others. If you ask the janitorial company to switch products because of a lingering smell or allergic reaction from one of your employees and they say no, you shouldn't work with them.
For more information about our commercial cleaning services, contact us today. We're professional, accommodating, affordable and most importantly, trustworthy.