What Does Industrial Cleaning Involve?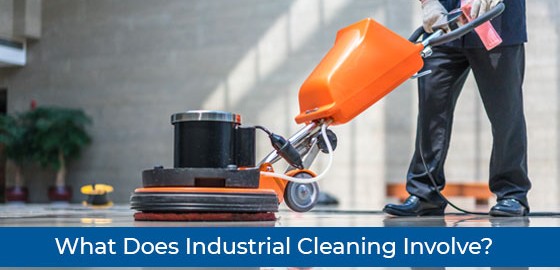 The word "industrial," typically indicates something that exists within traditional manufacturing or heavy industry, such as a warehouse, factory, or power plant. Industrial cleaning relates to the maintenance of these areas. At its most basic level, it means cleaning industrial facilities, which is one of our specialties at RBC Clean.
As an industrial cleaning contractor, we manage the cleanliness of facilities of all sizes in a variety of industries. This is a necessity as many of the materials used in these buildings make it difficult to clean with the tools and cleaners you would use in your home.
To properly wield the tools of this trade, appropriate on the job training and safety courses are required. In this blog, we'll touch more about industrial cleaning and everything this process involves.
Industrial Cleaning Options
While the role of industrial cleaner sounds like a clear-cut title, the role applies to several settings and jobs. Industrial cleaning involves a large selection of tasks. Depending on the size of the facility and its main use, industrial cleaners may need to service the following:
Private Offices
Washrooms
Conference, Training, and Meeting Rooms
Kitchens, Cafeterias, and Other Eating Areas
Internal portions of loading dock including Shipping & Receiving
Storage Spaces including Shelving and Racking
Warehouse, Production, and Manufacturing Floor Areas
Employee Lounges and Locker Areas
Mechanical Equipment
High Level Vacuuming & Dusting (ceilings, fans, lights, conduit, etc.)
Before RBC begins working in a facility, we create a work plan, including the best way to manage each space. This includes training for any new materials or equipment we may need to maintain.
The Role of an Industrial Cleaner
Industrial cleaning involves the management not only of production floors and warehouses, offices, storage spaces, and other areas inside a commercial building. It involves a clear knowledge of the materials being used to clean with, and of the components being cleaned.
For example, some industrial cleaners are tasked with maintaining the cleanliness of equipment inside manufacturing facilities. This requires protective clothing and safety gear to properly discard dust, rust, metal fragments, glass, and chemicals.
As an industrial cleaner, there's more to consider than just how well you can wield a dust rag. For example, working in this type of atmosphere, cleaners must be:
In good health
Properly trained to manage the materials being maintained
Good at communicating with others
A team player
Willing to wear the correct protective garments when necessary
Aware of the environment being cleaned and the dangers it poses
All of our teams are experienced in the management of a variety of tools and products. They are trained for every environment they enter, and extremely careful around client equipment.
Know who to Call
Being an Ontario-based company, RBC Clean is Canadian proud and strives to serve our friends and neighbours with the highest quality products and services. Our team is prepped before each site to ensure that every member of our team has the appropriate safety gear and understands how to manage and maintain equipment properly.
For more information on what industrial cleaning involves, call RBC Clean at 1-855-493-9259 or contact us here.