Why Commercial Cleaning Is More Important Now Than Ever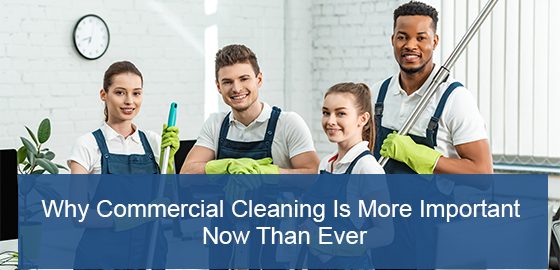 With all that's been going on in the world this past year, it's easy to let your maintenance priorities slip. After all, what is the point of investing in good commercial cleaning when there are so few people around to appreciate it? However, COVID-19 has made the need for commercial cleaning services more urgent than ever.
If you want a space that is safe, clean and inviting, you need commercial cleaning. Plus, with less staff on hand, it's likely that you simply don't have the manpower needed to accomplish this task to a good professional standard.
Here's why commercial cleaning is so important, especially now.
Commercial Cleaning Can Help Against Viral Infections
For an organization to maintain its competitive edge, it needs proper policies, procedures and most importantly, preparation to handle the various tasks that will be expected of any high-powered company.
Of course, this is something you were aware of even before the pandemic turned our world upside down. COVID-19 continues to keep us on our toes with constant changes in procedure and lockdown protocol. Still, it makes it more critical than ever that you do all you can to stay in business and a healthy building - as in one with the right procedures - is a high priority for businesses that want to keep running at levels as close to normal as possible.
Commercial Cleaning Follows Health & Safety Protocols
Opening back up after lockdowns requires a lot of planning and consideration, and you have probably already implemented a variety of new procedures. But if you want to entice both customers and employees out of their safe home cocoons, then you need to do something to make your company stand out as polished and ready.
The major concern for businesses right now is meeting health and safety standards so that you can operate without risk. It's hard to keep up with all the new requirements and ensure everything is perfect but luckily, this isn't something you have to struggle with alone.
Good commercial cleaners in your area have been keeping up with all the practices and protocols required for business, particularly in the area of cleaning and disinfection. Besides, it's not practical to expect all your employees to know precisely what new safety standards they need to meet and expect them to become cleaners on top of the jobs they already do as normal full-time workers.
Commercial Cleaning Provides Complete Disinfection of your Workplace
Basically, COVID-19 or not, you have a business that needs to operate. And to do that you need companies you can trust to handle the cleaning and safety requirements without distracting attention from your business. Sure, your employees can follow basic protocols like washing their hands and doing simple sanitizing of communal areas, but only commercial cleaners can provide the detailed and complete disinfection of your workspace which is needed.
That's not even to touch on the unfortunate circumstance where an employee of yours becomes infected. If that happens, it's more critical than ever to deep clean the area so that you can get back to normal business as fast as possible, rather than being forced to remain closed, hemorrhaging money.
And that's where reliable professional cleaning services can come in. Companies like ours, RBC Clean, can provide the services you need to remain focused on your job, to keep your company up and running, clean and safe. Most importantly, we do it quickly and effectively, meaning this is one item you can immediately check off your list of concerns.
What You Should Look For
Techniques are one area that you want to focus on. Look for companies that offer services like electrostatic disinfection, where a positively charged disinfectant is sprayed throughout the room enveloping hard surfaces for the most thorough coverage. This technique can be completed as a preventative measure or to disinfect a COVID-19 contaminated area.
Another thing is to check their company procedures. The first thing should be a risk assessment of the whole building before even beginning to identify specific areas that need attention and care. Next, they should provide regular touch-point cleaning of commonly frequented areas like telephones, light switches, stairway bannisters and door handles.
You want to make sure that there's comprehensive deep cleaning available, targeting the most obvious areas, but also hitting locations where bacteria can settle and spread, such as window ledges, around radiators or most critically, below desks and other sitting areas.
Closing Thoughts
It's easy to forget how important commercial cleaning is but hopefully this article has helped explain why it's essential. When you have a good commercial cleaning company keeping your workplace safe from COVID-19, you can focus on the core business tasks that'll make your business boom.
Just make sure when you're selecting a cleaner that they have all the stringent procedures necessary and that they have a reliable team you can count on.
To learn more about the importance of high quality commercial cleaning, call RBC Clean at 289-301-2095 or contact us here.