Everybody wants a clean home and office. Unfortunately, we don't always have the necessary time to do a full scrubbing. Hiring a professional cleaning service gives you the freedom to get on with your day while someone else does all the dirty work. If you're not sure about hiring a professional cleaning service to tidy up your office or house, we have four reasons you should: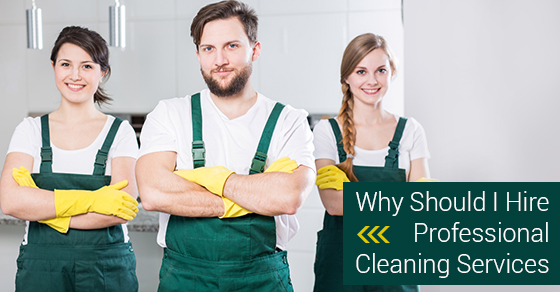 We'll get into every nook and cranny

Professional cleaners are just that: professionals. We will give a full scrub down of every single nook and cranny of your home or office, so that each surface is clean enough to eat off of. There are areas that you probably don't want to touch anyway, like the toilet or behind the fridge. We'll make sure they shine and we'll do it with smiles on our faces.

We'll get it done fast and effectively

Because we do this for a living, we've got it down pat. We also know how to clean quickly but effectively. Our techniques have been perfected over the years and when we show up at your home or office, we're ready to work. Cleaning is our job and we do it in a very timely manner. We're neat freaks by trade so it's important for us to leave your office or home free of dirt, dust and stains when we're done.

We keep whatever schedule you want us to

The great thing about hiring a professional cleaning service is we work when you want us to. You can schedule cleanings, weekly, bi-weekly or monthly—basically, whenever you want. We'll also come to your office when it's closed so as to not interfere with your employees while they're working.

We only use products that are safe

Industrial cleaning products are sometimes a must when it comes to cleaning. However, that doesn't mean we'll use products that are harmful to the environment and your family. We understand the importance of clean air because, hey, we breathe too. Our products are safe for your family and your pets so you don't have to worry about inhaling toxic chemicals while we're grouting the tiles in your master bathroom.
Having a clean home or office is an important part of your everyday well-being. You don't want to live in a pigsty or work in one, which is why you should hire a professional cleaning company. Contact RBC Cleaning and we'll turn your home or office into a sparkling environment. Plus, you can sit back and relax while we do all the dirty work.