Five Things to Remember When Choosing a Construction Cleaning Service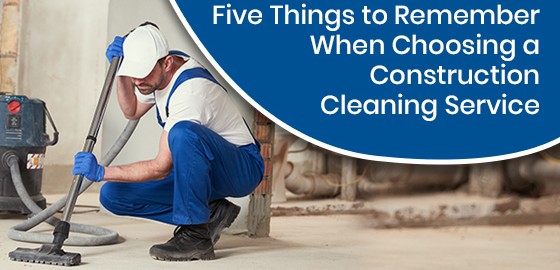 Before a new structure can be occupied, the mess created during the construction process must be completely and safely cleaned up. Over the last year, Toronto has been home to more construction cranes for new high-rise buildings than anywhere else in North America. In fact, the mayor of Toronto has even claimed that we are currently living in the "busiest construction season" the city has ever seen.
Given all of the construction currently taking place in the GTA, there is a huge demand for experienced and reliable construction cleaning services. With so many cleaning companies to choose from, it may seem challenging to pick the right one for your needs. The tips outlined below will help you make a smart, informed choice, and pick a company that will leave your project site sparkling clean!
Do your research

Before hiring a construction cleaning service and signing a contract, it is important to thoroughly research the companies you are interested in. You will want a company that has experience working on similar projects, that is properly insured, and that has employees equipped to handle everything that needs to be disposed of. Job sites have strict rules to ensure everyone's safety. The cleaning team will become part of your crew while working on your site, and it is important that everyone has the necessary training to operate safely and effectively.

Don't be afraid to ask the company about previous clean-up projects they have worked on, or for references from past contractors. You want the job done right, and from a company that is efficient and knows what they are doing.

Consider their volume

With so many projects in the GTA requiring commercial clean-up services, many cleaning companies are simply overwhelmed by the demand. Be sure to inquire about what other projects they are working on, how many projects they can take on at once, and how long you will have to wait for a team to arrive on-site. All of these factors can impact the overall timeline of your project, so it is crucial that you pick a company that can accommodate your clean-up within your specific budget and timeline.

Outline a clear scope of work

Be very clear about your expectations for the scope of the work, and ensure the cleaning service you choose is able to complete everything you need done before occupancy. Some services specialize only in rough cleans, while others only in final cleans. You may want one or the other, or, more often, both. A rough clean company will not likely have all of the chemical cleaners and tools necessary for a final clean, while a final clean company will not likely have the heavy equipment or specially-trained personnel needed for a rough clean.

Take the estimations from the companies bidding on your job through the site so they can assess the scope of work and discuss your expectations with you. This will lead to more accurate pricing and will help you choose a company that has the capability to get the whole job done.

Pay attention to quality and safety standards

The work your construction cleaning service performs will directly reflect on you. This will be the final impression you leave on the project, so the quality of work is incredibly important. The company you choose should hold themselves to a high standard and be proud of the job they do. Bear this in mind as you receive quotes from different cleaning services. You get what you pay for, and the company offering the least expensive package may not perform the best quality of work.

Safety is another important issue to consider when choosing a construction cleaning service. Ensure the company you choose has a good track record and the necessary knowledge to work on your job site. Construction cleaners deal with a lot of airborne dust particles and strong chemicals. A good company will provide its employees with all the necessary personal protective equipment they require, as well as have properly maintained machinery and tools.

Keep notes about their customer service

A construction cleaning company is providing you with a specialized service, and their customer support team should be available to discuss your questions and concerns in detail. Depending on the project, you may require 24/7 availability from their customer support team. For other projects, availability during standard business hours may suffice. Once you have chosen a company that fits your needs, be sure to keep notes of how their customer service team responds to your concerns. In this way, you will have a detailed first-hand account of both their on-site performance and their customer support, which will help your team decide if you want to continue using the same construction cleaning company for future projects. Often, first-hand experience working with a company is the most valuable review you can have, which can save you significant headaches in the future.
Why us?
Founded in 1956, RBC Clean is a Canadian-owned and operated cleaning company that strives to be a single solution for common clean-up projects. At RBC Clean, we offer comprehensive construction clean-up services for commercial and residential projects. From basic clean-ups including dusting, vacuuming, debris-removal, and disinfecting to more precision cleaning services such as window washing, carpet steaming, and floor refinishing; our team of experts can handle the mess. Our cleaning technicians are equipped with the best modern cleaning supplies to make the cleaning process smooth and efficient.
For more information about booking a team to clean up after your construction project, or to inquire about our other cleaning services, call RBC Clean at 1-855-493-9259 or visit our website here.