Four Things to Expect from a Professional Cleaning Post-Construction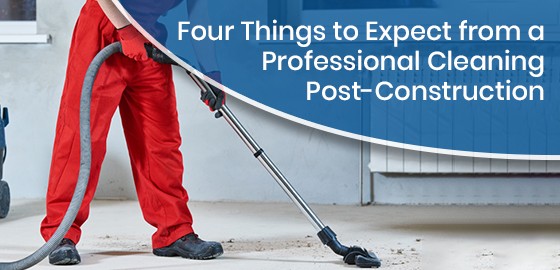 Let's face it: construction projects can be very messy. When your project is complete, there will likely be dust, debris, and trash left around the interior and exterior of your site. A professional post-construction cleaning service will fully clean and disinfect your entire job site, ensuring your structure looks great and is ready for occupancy. Professional construction cleaners have extensive experience with many different types of projects—they know how to tackle stubborn dirt and dust from every surface. Each project is unique, and a cleaning company will likely want to do a site walk-through with you to come up with a plan to meet all of your cleaning needs. Outlined below is everything you can expect from a professional cleaning post-construction.
Debris and trash clean-up

After each stage of your project, there will be trash left from the contractors and subcontractors as they finish and move on to other jobs. This can be unsightly to your future neighbours and look unprofessional if you have clients or stakeholders stopping by your site frequently. It is important to remove all trash when your project is finished—both for aesthetics and for safety reasons. Not only can debris and trash tarnish the aesthetics of your space, but it can also pose a significant safety risk to those on the job site. From an increased risk of slip-and-fall injuries to rusty nails and other potential hazards, the dangers of not cleaning your space after each phase of construction are very real. Some companies offer to remove the trash throughout different stages of your project to keep your site looking clean and tidy at all times. Be sure to get a detailed quote from your construction cleaning company; while some companies will perform a quick cleaning after each stage of construction, others will only perform full clean-ups after all construction is finished.

Not only will a full clean-up of construction debris and trash make your property safer for those on the site, but it also shows that you care about the space. When showing a residential build to real estate agents, potential homeowners, or commercial prospects, a clean and tidy space will demonstrate that you care about the community. A positive response from this kind of presentation is crucial for the long-term success of your project.

Exterior clean-up

Once all debris and trash have been cleaned up, the exterior of the building becomes the focus for construction clean-up crews. By cleaning the exterior of the building—including all walkways, patios, gardens, and parking areas—you instantly make your space appear more livable. This will have a positive impact on every individual who drives or walks by your building. Professional construction cleaning companies will often clear all debris from these areas, but it is important to ensure they will also perform finishing touches on the exterior of the building. This can include sweeping the sidewalk and all walkways, power-washing the entire building to remove dirt and dust stains, and washing all exterior windows. All of these details ensure potential residents have a positive first impression of the space.

Interior clean-up

Now that the exterior of your building is clean and tidy, it is time to ensure the interior is ready for potential residents to view the space. This means space must be as close to livable as possible. While contractors and construction companies themselves will likely have removed all of their tools prior to the cleaning company arriving on-site, construction clean-up crews will ensure all tools and equipment are removed from the space. From there, cleaning teams will perform a comprehensive cleaning of the space, including sweeping, vacuuming, and mopping all the floors. This will remove the thick layers of dust and dirt that are often present after construction. Cleaners will also wipe down the walls to combat dust and dirt, followed by a comprehensive detailing that will clean all interior windows, doorknobs, hinges, and lights. This includes a powerful disinfectant to ensure space is both clean and safe for residents. Once every inch of the space is sparkling clean, the building will be ready for viewings.

Finishing touches

To make the space look as inviting as possible, many construction cleaning companies also offer other detailed cleaning services. This can include steam-cleaning the carpets and buffing and waxing the floors. These finishing touches will give your space that ready-to-move-in look that tenants are expecting, which can make the viewing process much more convenient. While these tasks can be performed by an independent contractor or by the building-owner themselves, be sure to ask your construction clean-up company about their additional services. Any time you are able to have one company complete multiple tasks can often save you time and money.
Why us?
Founded in 1956, RBC Clean is a Canadian-owned and operated cleaning company that strives to be a single solution for common clean-up projects. At RBC Clean, we offer comprehensive construction clean-up services for commercial and residential projects. From basic clean-ups including dusting, vacuuming, debris-removal, and disinfecting to more precision cleaning services such as window washing, carpet steaming, and floor refinishing, our team of experts can handle the mess. Our cleaning technicians are equipped with the best modern cleaning supplies to make the cleaning process smooth and efficient.
For more information about booking a team to clean up after your construction project, or to inquire about our other cleaning services, call RBC Clean at 1-855-493-9259 or visit our website here.