Why You Need to Hire Cleaning Professionals After a Renovation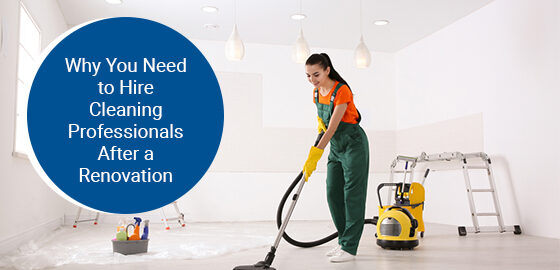 If your office or workspace is undergoing some renovations, you may have neglected to think about the cleanup afterward. Since business owners have other projects and deadlines to consider, they may not want the added stress of cleaning a construction site after it has been finished.
That's why it is beneficial to hire a team of cleaning professionals after your renovation has been completed to get your office or business area back to normal and resume your activities. Here are some more reasons why professional post construction cleaning services, like ours at RBC Clean, are worth pursuing after a renovation.
They're More Convenient
When you hire a renovation crew for your project, they may have expertise in various things, but professional cleaning is likely not their specialty. Also, if you end up hiring amateurs to do the job, not only will it take longer, but it will be much less effective. You'll waste money and time when you could have just had a credible company do the job in the first place, at a competitive rate.
They Save Time
Expert cleaning companies like RBC Clean will take care of more detailed cleaning aspects otherwise overlooked. That way, when you move back into your office or workspace, everything will look good as new, and you will have an increase in productivity. One issue that tends to come up with post construction cleaning is an accumulation of dust. However, if you hire a properly trained cleaner, you won't have to worry about dust making your employees sick or uncomfortable.
They Are an Affordable Solution
Quite often, business owners think that professional post construction cleaning services are too expensive to budget for after a renovation. However, when you think about it, hiring a cleaner ends up saving costs because it gives you and your employees extra time, and the cleaning won't have to be repeated. Plus, if you don't have the expertise to clean up a construction area, you could be exposing yourself to potential health hazards.
If you decide to get the original construction crew to perform the cleanup, you may not get the desired results. They may do the job at half the effort, and you will still end up paying extra. The best idea would be to get the job done properly the first time by hiring a professional commercial cleaning crew. These companies can provide the following:
The most up-to-date cleaning technology and equipment
Elimination of harmful chemicals, and thorough cleaning in dusty areas
Efficient cleaning services finished within hours or days
Affordable solutions that will save money in the end
Even if you pay additional costs for a trusted post construction cleaning company, you do end up saving in the long run and can go back to work as quickly as possible.
They Can Organize Your Workspace Better
Even at our best, we can never get a space as clean as professional cleaners do. Post construction cleaners are trained professionals that know how to use the latest technologies and products to clean as thoroughly as possible. Many of these companies also have the experience of working specifically on post-renovation project sites.
To get better organized, you'll want to have cleaners come in as soon as the builders leave your space. That way, all the walls can get washed right away, they can get rid of dust and debris, as well as remove whatever is needed. Then, when you and your employees come back to work, your workplace will appear to be more cohesive than ever.
They Can Extend the Floor Life
When a construction project is completed, all the work done can wreak havoc on the flooring. That's why it's essential to perform floor stripping and waxing right away so that the floors can retain their shine. However, not everyone is equipped to handle a floor waxing on their own; a reputable cleaning service will achieve the best results. These post construction cleaning services can also save you money in the end because the longer your floor lasts, the less they will require maintenance. It will also make removing dirt from the floor a much simpler process daily.
They Can Offer Follow-Ups
Professional cleaning companies will not only perform high-quality services for their clients after a renovation; they also will be able to provide tips and advice on how to maintain the space for years to come. Also, they will follow-up with their customers to determine if they require any additional cleanings or any more advice.
Now that you know why you need a post construction cleaning service for your office, be sure to enlist solutions from a dedicated and reliable team.
Why choose RBC Clean?
RBC Clean provides post construction cleaning services for businesses and offices in Aurora, Ontario, and the surrounding areas. When the building contractors finish their new or existing renovation, our team will clean every surface from the ground up so that you can conveniently move back into your office space as soon as possible.
If you are curious about our post construction cleaning services, we offer the following:
General construction cleaning (dusting, disinfecting, vacuuming, washing)
Glass and window cleaning
Carpet steam cleaning, and new floor finishing or pre-existing floor refinishing
High-performance dusting and vacuuming
There is no doubt that our team can handle your post-renovation clean up no matter how extensive the project was. By getting in touch with us today, we can schedule a team to meet with you or determine your needs over the phone to create a unique plan that will suit your needs.
Be sure to get in touch with one of our friendly and knowledgeable team members today by calling 1-866-278-8208, emailing us, or filling out the contact form on our website. We would be happy to speak with you about how we can help you get closer to utilizing your newly renovated office or workspace.