Commercial Cleaning: What to Do in the Event of a Flood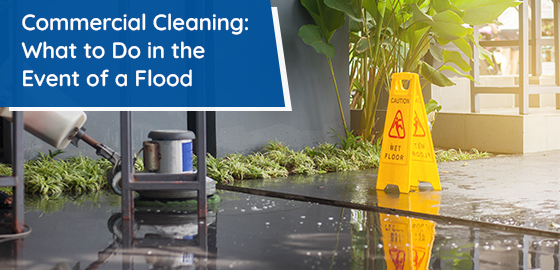 Floods in commercial buildings have the potential to be much larger and more expensive than residential floods. Commercial spaces tend to be larger than individual homes.
Not only does this mean an increased volume of water, but makes it harder to spot issues early. Once a major leak begins, it is difficult to locate, stop, and repair the damage. If your commercial building has undergone a flood, here's what to do.
Common Sources of Water Damage
First, you need to know that water damage can come from several sources — especially in large commercial buildings.
As a result, it's imperative to be aware of the common causes, proactively look for them, and take steps to prevent leaks. Most leaks and water damage in commercial and high-rise buildings come from the following sources:
Pipe leaks
Plumbing clogs
Poor implementation of safety valves
Bad plumbing habits like flushing inappropriate materials
Using caustic chemicals to clear clogs
Inefficient appliances
Natural disasters like storms and floods
What to do in the Event of a Flood
Flooded areas can be dangerous. Consequently, anyone within a flooded building should evacuate immediately.
No one should re-enter until it is proven safe. A flood can lead to many hazardous situations like structural collapse, fire hazards, and electrical shock.
Do Not Enter the Flooded Area Until It is Safe
Before anyone can enter a flooded area, disconnect the power. You will also need property safety equipment and apparel.
If you meet these conditions, the next step is to find the source of the water. It will ensure that the flow has stopped. You may have to shut off the water entry.
Get Rid of Any Standing Water
Once the actual flooding has stopped, you have to direct the water runoff to prevent further flooding and eliminate any standing water. Standing water will continue to cause damage if left in place.
You can remove water using pumps, buckets, or a wet vac. Additionally, ensure that all drains are clear and properly working. The water needs somewhere to go.
Remove and Document all Water Damaged Items and Furniture
It's time to assess the damage. You should document all the damage in detail. Make a list of everything that needs replacing and repair.
Take plenty of photographs for your insurance and to help you as you rebuild.
Ultimately, you must remove items with severe water damage from the building. They may contain toxins and bacteria. They're also likely to develop mould — and fast. Any salvageable items still need to be removed and placed in a safe area to dry.
Take Steps to Prevent Mould Growth
Mould can develop as rapidly as 24-48 hours after water exposure. Therefore, you must act quickly. Immediately begin drying out the flooded area by opening windows and doors. Use fans and dehumidifiers to dry out the room.
Stagnant areas promote the growth and spread of mould and bacteria. Remove wet items, furniture, and even carpeting. Be sure to disinfect flooded areas to prevent bacteria growth.
Have Your HVAC System Inspected
Flood waters can cause extreme damage to your HVAC system, leading to a breakdown and expensive repairs. By having your HVAC inspected as soon as possible, you will get an accurate assessment of its condition and learn if it's still safe to use.
A professional HVAC technician can recommend repairs and replacements or confirm that it's still in good working order.
Sound Complicated? You Need Professional Emergency Flood Clean-Up
Cleaning up your business after a flood is a big task. Furthermore, improperly handling a flood can lead to severe, irreversible, and expensive water damage. The professionals at RBC Clean can help. We are equipped to extract water and dry the affected area to limit the damage.
Additionally, we treat the flooded area using antimicrobial disinfectants. It prevents mould, mildew, and bacteria from occurring.
Categories of Water Damage
Category 1
The first category of water damage is when the leak comes from a clean water source in the building. This type of leak poses a low health risk- if addressed within 24-48 hours. Neglecting to act within that window will still lead to mould and mildew growth. We can assist our existing customers with water extraction.
Category 2
A "grey water" leak leads to the second category of water damage. Grey water comes from sources with mild to severe contamination. For example, treated cooling water lines, discharge from equipment, and fire suppression systems.
You should exercise caution when dealing with Category 2 water and understand exposed materials may not be salvageable. We recommend contacting your insurance company.
Category 3
Lastly, Category 3 water damage comes from "black water." This water is highly contaminated and dangerous as it carries a significant risk of disease, infection, and irreparable damage.
Black water comes from sewers, drain backups, and water from rivers, lakes, and the ocean. Exercise extreme caution. Any materials contaminated with Category 3 water need replacing. We recommend contacting your insurance company.
Emergency Commercial Cleaning Services in Markham
RBC Clean provides emergency commercial cleaning services to Markham businesses. We understand that time is a factor in these situations. It is why we offer 24-hour emergency response services for our clients.
To learn more about our commercial cleaning services in Markham, call RBC Clean at 866-278-8208 or contact us here.