Having a busy schedule often means that chores go undone for days at a time, which usually leads to two outcomes: being unprepared for guests, and feeling uncomfortable in your own home.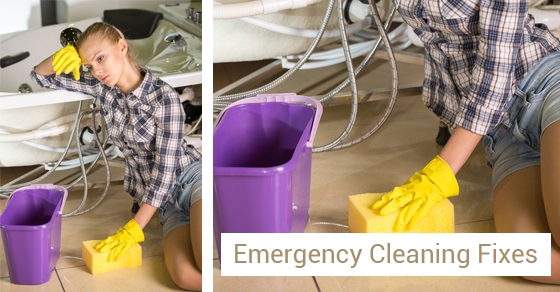 Not every home needs to be spotless all the time, and sometimes a quick fix will do the trick. We've outlined the steps below so you can get tidy and prepare for guests in a pinch. For a genuine emergency where you've spilled a hazardous material, for example, don't try to clean on your own as you may end up damaging your home, injuring yourself, or exposing yourself to an unhealthy environment. Professionals will have the equipment, experience, and manpower to do the job safely and efficiently!
Start with the Three T's
The T's stand for toilets, tables, and televisions, because those are the three things that guests are likely going to use and notice first. Toilets should be cleaned so guests feel comfortable using the washroom, while tables are where your food, drinks, books, and arms rest during a meal or conversation.
Additionally TVs are large and dark so dust that collects on the large surface area are very noticeable, especially in the sunlight. The minimum work required for cleaning a toilet involves scrubbing the inside of the bowl and wiping down the seat with a sanitizer (both the top and bottom).
Temporary Organization
Putting everything back in its place, from small items to large, will take a long time. When you're short on time, you'll have to take a suitable shortcut.
Hide you disorganized possessions from view by temporarily placing them in a closet or other storage space where they will be out of sight.
When doing this, you should put things in temp containers within the rooms where they belong so that you'll reduce the trips you'll make delivering items back to their proper place once you're able to get organized. Make sure that you're not putting things in a room where your guests are likely to go in order to avoid your clutter being spotted!
There's no Room for Dirty Dishes
Dirty dishes that have been soaking in the sink can't be shoved into cabinets and dish racks. If you have a dishwasher, store them there temporarily. You don't have to plan to use the dishwasher or put it on if you don't have the time. Simply use the fact that the dishwasher is a container that can be cleaned on its own. Don't overload the racks or you might have some crushed dishes to deal with later.
The trick to cleaning in a clutch is to not concentrate so much on making things spic and span, but to simply organize your space. As long as your guests aren't surrounded by clutter, it's likely that your mess will go unnoticed!