Refinish Your Floors for a Fresh Look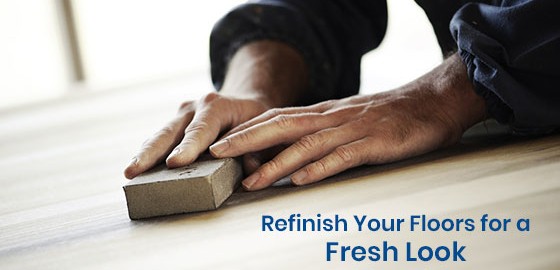 Even the highest-quality floors can start to look dull over time. Nicks, scratches, and general wear-and-tear can strip your floor of its brilliance. Whether you have marble tiles in the kitchen or Italian ceramic in your bathroom, one of the best ways to restore their natural beauty is through floor refinishing.
Although laying down brand new flooring is possible, this type of renovation can be costly. Refinishing allows you to enhance your floor's appearance while still keeping everything intact. Read our guide on what refinishing entails, and why this process may be the smarter choice.
Refinishing Techniques
A professional cleaning firm can bring back the original quality of your floors. We do this by providing a number of refinishing services, such as:
Buffing or burnishing hardwood
Stripping and waxing vinyl composite flooring
Grout detailing and deep scrubbing of ceramic tile
Depending on your goals, floor refinishing techniques will differ. From smoothing out rough surfaces to achieving a high-gloss shine, let's look at the various things that can be done to bring old floors back to life.
Buffing
Wood and vinyl floors can be restored with a buffing machine once everything has been deep cleaned. A floor buffer has a rotating pad holder on the bottom and spins at various speeds to achieve desired results. We apply a specific pad to the bottom of the floor machine to buff the floor. After the buffing is completed dust mopping or vacuuming of the floors will remove any residual dirt or dust left behind. Although buffing will restore smoothness, it won't achieve the same 'wet look' that burnishing will.
Burnishing
This process is particularly effective on vinyl floors. Unlike buffing, burnishing provides maximum shine due to the burnisher's much higher speed and also hardens the floor finish to be more durable. Although this process polishes floors much quicker, sufficient coats of polish must be applied. Otherwise, your floors can actually end up looking dull and worn.
Auto-Scrubbing
Grease, dust and oil will accumulate quickly in high-traffic areas. An industrial strength auto-scrubber can get rid of caked on dirt quickly and easily. The larger the cleaning pad, the wider the surface area that can be treated at once. This type of machinery will always achieve better results than a manual cleaning.
Stripping
Floor stripping is when you entirely remove the finish. Although techniques may vary, one common method is to use an auto-scrubber to dry strip the floor. The top finish then becomes a pulverized powder that can be swept away. Another technique involves using a chemical stripping solution. This job should always be scheduled when a building or home won't be in use, such as on weekends or overnight, due to slipping hazards.
When is refinishing the smarter option?
Unlocking an old floor's original beauty is a lot easier and more affordable than you think. It doesn't have to involve dusty sanding or messy staining techniques either, especially if your floors aren't actually damaged. If they're simply dirty or contain a few minor scratches, refinishing is usually all it takes.
If you want the best results, always rely on a professional cleaning firm for jobs like this because flooring, especially hardwood, is often made with sensitive materials. Never attempt a refinishing project yourself. Harsh store-bought chemicals or aggressive cleaning machines can permanently damage your floors. Thus costing you more money to fix the problem. Invest in a high-quality refinishing service, and get the job done right the first time. Once your floors have been refinished, call on a professional cleaner for maintenance services too. They can perform scheduled cleaning calls, remove mild imperfections, and re-apply polish for additional shine.
For more information on refinishing your floors, call RBC at 1-866-278-8208 or contact us here.