What Can Floor Refinishing Help To Fix?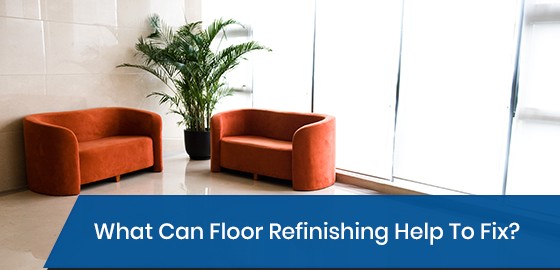 After years and years of housing heavy furniture and foot traffic, vinyl floors become dull, discoloured and scratched. Floor refinishing provides an ideal fix for blemishes and can revitalize the floor.
What is floor refinishing?
Floor refinishing is a process that involves cleaning, sealing, and adding a finish coating to the surface. This process is usually done to enhance the appearance of vinyl floors that need a fix to give them new life. Depending on the age and state of your floors, you may not need to sand them and can simply clean them and add a new finish. What can floor refinishing do for your home? Floor refinishing can help by:
Protecting your floors: Floor refinishing adds a layer of protection to vinyl no matter how old it is. The finish used in the process provides a protective coat against scratches from furniture, foot traffic, liquid stains (if you drop a glass of water on the floor), damage from pets etc.
Changing your space: After a while, we get sick at looking at the same old floors. We may not want to get a new couch or coffee table but we can refinish our floors to give our home a nice change. Floor refinishing is a welcome change that can revitalize your space without you having to switch your decor, knock down walls, paint the room a different colour or purchase new furniture. By refinishing your floors, you can update your space at a reasonable price instead of drastically changing your entire home. Plus, older floors often need a fix to make them look new again. When you refinish older floors, they will appear as if they are new.
Increasing the value of your home: Anytime you put money into your home, you get money out of it. Home renovations can be costly but they are worth it in the long run. Refinishing your floors increases your home's value so should you decide to sell or take on a second mortgage or HELOC, you'll have more capital to play with. Your home is your biggest investment which is why you should put what you can into it. In doing so, you'll be able to reap the benefits later on.
When it comes to floor refinishing, you should always use the services of a professional. Please contact us for more information. At RBC Cleaning, we have tools and talent to revamp your floors leaving you with a gorgeous new finish that revitalizes your entire house.