What To Know Before Refinishing Hardwood Floors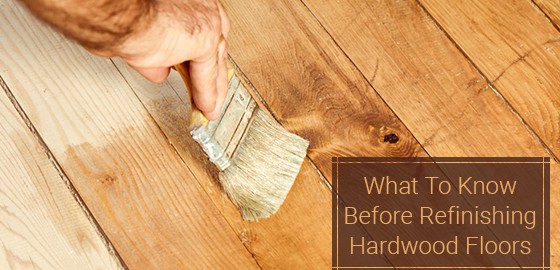 By refinishing your hardwood floors you are removing years of wear and tear that would otherwise be there for life. With things like scuff marks from shoes, scratches from the dog, and spills, your hardwood definitely takes a beating over the years. As tough as many are designed to be, they are not invincible, and with enough abuse will begin to look like they've seen a war. If you are planning on refinishing your hardwood, below are some things to know before you begin.
Choose Your Flooring Expert with Care
Getting the right company and the right crew for the job should be your first step. You don't want a crew full of people who are just learning how to do the job well. You want a trusted expert. Make sure that you are getting referrals from friends, whose floors you've seen yourself, and you are speaking to trusted contractors and checking up on references, ratings, etc.
Determine Whether You Need a Complete Refinish
If your floor doesn't have any profound gouges, or hasn't completely worn through anywhere, you might not need to go through with a full, expensive refinish. Your floor expert can just lightly sand the existing finish off the floor and then apply a new one at much less cost.
Consider the Colour
If your hardwood is a deep, rich colour (darker than the colour of common corrugated cardboard) then there was probably a stain applied to it. If you are getting just a superficial refinish done, as mentioned above, then you won't lose any of that colour. If you are getting a full refinish done you will lose the colour and end up with lighter colour floors unless you've specifically asked the refinishing team to apply new stain.
Make Temporary Living Arrangements During the Project
You are going to need to temporarily vacate your home while the refinishing is taking place because you should not being walking on the finish while it's still wet. Three coats are typically applied and each coat needs to dry completely before a new one goes on.
Get the Touch Up Paint Ready
Even the most diligent flooring experts can't help making a couple marks on the baseboard from time to time. This means you should have some touch up paint ready to go so that you can cover up any of those accidents.
Refinishing your floors is something that takes a while, but the effort is worth it. If you've lived with marked up floors for a long time, they can sort of become natural, and once the refinishing work is complete you will be amazed that you went so long without perfect floors. Keep the above advice and information in mind before you begin your refinishing project and get the hardwood floors your home deserves.