What to Know Before You Get Your Floors Refinished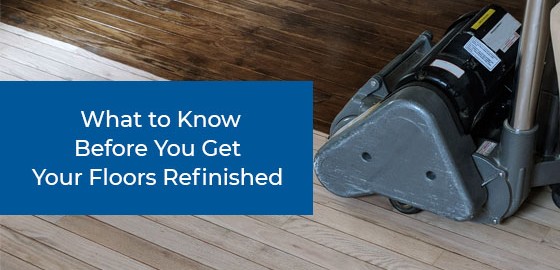 Whether you're a homeowner or a business owner, maintaining the floors in a building takes a lot of work. At RBC Clean, we specialize in commercial floor cleaning, buffing, and strip and wax services. This restoration process works on a variety of surfaces to renew, refresh, and add shine.
If you've been considering refinishing your floors, but aren't sure about what the process entails, we're here to help. RBC has seen our share of scratched and weathered floors. You might be surprised to see what a difference refinishing these surfaces makes to your entire space. Here's what you should know about refinishing floors and how it will improve your facility.
Why Refinish my Floors?
No matter how new your floors are, or how carefully you tread on them, they take a beating over time. Surfaces become scuffed and scraped by shoes, furniture, and other friction. These dull shine and create visible imperfections that catch dirt and bacteria.
Refinishing your floors re-smooths these surfaces, making them easier to clean, more aesthetically pleasing, and protected from further scrapes and scuffs.
Floor refinishing is an ongoing solution but isn't a daily or even weekly chore. Working closely with your industrial cleaning team you can develop a floor refinishing strategy that best suits your facility.
What Types of Flooring can be Restored?
Almost any floor can be restored, but the material makes a difference in the amount of time it takes and the tools used. At RBC Clean, we specialize in the following surfaces:
Ceramic Floors

Ceramic floors are beautiful but tough to maintain. The slightest amount of dirt and grout becomes stained and loses that crisp new look. Tile also dulls over time. Our service can include grout detailing and deep cleaning of each tile that renews your floor.

Vinyl Composite

Vinyl floors are great for their affordability and durability. Over time, scuffing dulls vinyl, making it look worn and old. Stripping the vinyl and waxing them to a sheen, we bring back the original luster of the floor, making it look new again.
To give these surfaces the best possible appearance and longevity, we use tile and grout steam cleaning services, along with auto scrubbing and resurfacing procedures. We complete the job with a sealer to protect your floors from future scuffing and reduce the need for extra cleaning.
Floor Refinishing Services to Brighten Your Space
RBC Clean offers several types of floor refinishing, depending on the flooring used in your facility. Our team works carefully to ensure that each task is accomplished with the appropriate safety gear and attention to detail. It's important to us that you see a significant and lasting change in your floors following our services. Some of the methods used in these tasks include:
Floor Stripping and Scrubbing

The most important step in refinishing floors is removing all dirt and debris. If this step is skipped, waxing and buffing will actually seal the dust and dirt into your floors, causing bumpy surfaces and easily scratched flooring.

The removal of any previous wax products must occur before a deep clean. This ensures that cleaners reach the floor and don't simply smear dirt deeper into floor wax. Once the floors are scrubbed and clear, they can be waxed and buffed.

Floor Waxing

Floor wax is applied following a thorough deep cleaning of the floors in your facility. It creates a protective layer between your floors and the materials which touch them. Furniture, equipment, boxes, and feet all tend to scuff as they move across Vinyl Composition Tile (VCT) flooring. Waxing the floors prevents scuffing of the actual floor, and only allows scuffing of the wax coating.

Before applying floor wax, any previous wax must be removed. We carefully relieve the floor of current wax buildup and apply many fresh coats until the floor is completely covered and sealed. Following the waxing process, your floor refinishing service providers should buff the wax to a high polish.

Floor Buffing

As the title suggests, floor buffing involves the polishing of pre-waxed floors using a high-power pressure buffer. The machine uses extremely soft pads to bring a high sheen to floors. The materials we use are chosen because of their anti-friction properties, preventing scratches and scuffs as the buffer works.

Before we buff floors, they must be completely cleared of equipment, furniture, carpets, and anything else which might get in the way of the buffing machine. Garbage bins, storage boxes, and even personal items should all be removed prior to our arrival. This not only ensures we are able to reach the entire floor but also that we protect your belongings as well. These are our most popular floor refinishing services.
Creating a Cleaning Plan
To guarantee that your floors are always in the best shape possible, we suggest creating a floor maintenance schedule. With this schedule, RBC Clean develops a strategy that works for your facility to ensure high-quality cleaning with no disruption to your day to day labour. By working outside of your company's work schedule, we can mitigate time-wasting and still have the time necessary to complete each task to its highest potential.
Creating a custom cleaning plan also removes the need to constantly schedule floor refinishing. RBC Clean will have a record of your last cleaning and know exactly when your floors require another deep clean and coat of wax to prevent deterioration. This keeps your floors looking their best longer and reduces the risk of early damage.
Every facility is different and depending on the flooring materials in place and the type of work you produce, you may require different cleaning products and services than a neighbouring building. With years of experience behind us, we are confident in our ability to design and implement a cleaning plan for any industry.
For more information about refinishing your floors, call RBC Clean at 1-855-493-9259 or contact us here.