6 Benefits of Hiring a Move out Cleaning Professional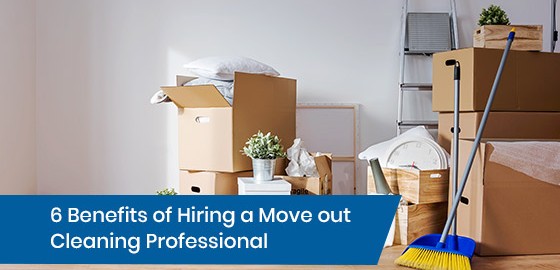 Moving can be an exciting but also stressful time. On top of the packing and sorting, thinking about cleaning your old place after you leave can feel like too much pressure. However, it doesn't have to be. Professional cleaning companies offer you a reprieve from the work of moving and allow you to get settled in your new home. If you are planning a move in the near future, consider hiring a professional cleaner to handle your move out cleaning.
Benefits of Hiring Professional Cleaning for Your Move
There are several good reasons to leave your move out cleaning in the hands of professional cleaners. These include:
Focus your time and energy: When you are in the middle of planning and executing a move, preparing for the eventual clean-up after you leave can take a lot of energy and focus. It takes time to plan for the clean-up, as well as doing all the hard work. After spending weeks packing boxes and moving things out of your home, do you have the energy or time to scrub, wipe, and wash? If you hire a professional cleaning company to tackle the task of cleaning after you move, you can focus on the more important aspects of transitioning to a new home.

Professionals know what they're doing: Professional cleaners have the knowledge, experience, and tools to get the job done right. It's their job. They know how to target the messiest areas and get them looking new again. Moreover, professional cleaners are bound to be far more efficient at the job. If you want your old home to be cleaned properly, leave it in the hands of the professionals.

Resale value: If you're hoping to get the best price for your old home, you will want to invest in a professional cleaning after you move. Professional cleaners can make your old home look new again. This will attract buyers and help you to negotiate a fair price.

Rental damage deposit: Are you moving out of a rental property? Do you want to get as much of your damage deposit back as you can? Leaving your space spotless is your best shot at impressing your landlord enough to get a hefty return of your damage deposit. The best way to do this is to leave the move out cleaning to the professionals.

Reduce your stress: Moving can be exciting, but it can also be stressful. The best way to ensure you can handle all the unpredictable things that may happen is to reduce the stress you are dealing with. Don't take on more than you can do. Learn to delegate, and you could find that you sail through your move. Leaving the cleaning to the professionals is one of the best ways to cut down on the number of things on your to-do list.

Cleaning tools: Cleaning up after a move requires a special approach and several different cleaning products. Do you have what you need? Professional cleaners have a variety of tools and techniques that they use to make your old space clean again. Why not leave the cleaning to the professionals who have the right equipment to tackle the job?
What to Look for in a Cleaning Company
If you have decided to leave your move out cleaning to the professionals, you will want to hire a trustworthy company. When it comes to what to look for in a cleaning company, consider the following tips:
Reviews. Research cleaning companies online and read what other customers have to say about them. Don't overlook companies that are new to the industry. Even if they don't have decades of business experience, if customers are impressed by their service, then it might be the right company for you — things to look out for include a company's professionalism, work ethic, and trustworthiness.
Insurance. Good companies have insurance and are bonded and licensed. This provides customers with assurance and security. Don't be afraid to ask a cleaning company if they have insurance and are licensed cleaners. Professional cleaners will take measures to protect their business and their clients. You can also ask about satisfaction guarantees, which many cleaning companies offer to customers.
Experience. Not all cleaning companies handle move out jobs. Cleaning up after a move is different from other cleaning jobs. It requires different tools and techniques. Be sure that the company you hire has the know-how to get your move out cleaning done right.
Availability. Moving can come with all kinds of unpredictable situations. You need to have a professional cleaning company you can count on. Be sure you understand when cleaners will be available, as well as what the company can do in emergencies. For example, if your movers don't arrive on time, will your cleaning company be flexible enough to switch times?
Green solutions. More and more cleaning companies are offering green solutions for clients. If this is important to you, look for a cleaning company that offers this service. Green options can include cleaning solutions, as well as environmentally-friendly techniques.
When you talk to a professional cleaning service, there are some important questions to ask to find out if they will be fit for the job. These include:
What are your rates, and how do you determine them?
Do you have WSIB coverage?
Will you bring your own supplies and equipment?
Can you use specific products I have?
What services will be included?
For more information on extending the life of your carpet, call RBC Clean — located in Aurora, and servicing all of Southern Ontario and the GTA — at 289-800-7694 or contact us here.