How to Plan an Office Renovation: A Step-by-Step Guide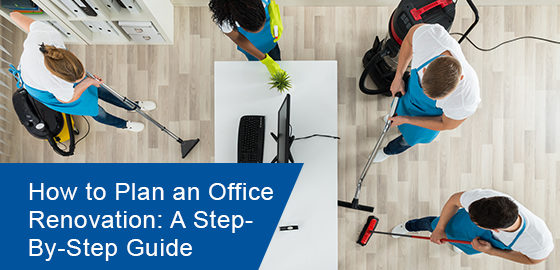 A renovation is the perfect opportunity to make your office space work for your company. Maybe it's feeling a bit drab and outdated, or it no longer meets your business's requirements. If you find that your office lacks the functionality you need or fails to create a stellar work environment for your employees, it's time to remodel.
But where to begin? You have questions- and we have answers. Here is our step-by-step guide for your office renovation.
1. Get clear on your goals
The first step in the renovation process is to clearly define your purpose and goals. Why are you renovating? Have you moved into a new office? Or do you need to update your existing space? What are your goals for your future office?
To effectively plan a successful remodel, you need to understand the reasons behind the renovation. Are you trying to improve your company's daily operations and boost productivity? Or are you hoping to make a better first impression with clients? Perhaps you want a better working environment for your employees.
Alternatively, maybe your company has moved into a new office and you need to update the space to match your brand.
Evaluating your current workplace. What's lacking? What can you improve? Answering these questions helps you define your goals for your new office space.
2. Needs vs wants
It's easy to get carried away with any renovation. After all, you're presented with endless options and opportunities for improvement. However, saying yes to too many things is an easy way to end up in over your head. For example, your renovation will likely be over budget and take longer to complete.
Consequently, it's crucial to determine what are non-negotiables and what are only wants. Think critically about your choices and be discerning!
As you consider your needs versus your wants, remember to think both short and long-term. What are your company's immediate needs? And what are you likely to need a year from now? Five years from now?
You do not want to be forced to remodel yet again in five years because you didn't consider the future. After all, renovations are expensive and can disrupt your business.
3. Hire the right people
A successful renovation is a challenge if you lack the right people on your team. Consequently, hiring experienced, qualified, and licensed personnel is one of the most important decisions that you will have to make.
Choose your general contractor with care. They will be the one overseeing your project, coordinating subcontractors, and offering valuable insights.
4. Determine the scope
The scope of your renovation includes all the work that has to be done. This covers details such as what materials will be used, what fixtures are needed, permitting, etc. The scope determines the budget.
Taking the time to discuss the scope with your general contractor is key for preventing "scope creep." This is when your project slowly (or quickly) spirals out of budget and out of control.
By clearly outlining what work will be done, who will do it, and how much it should cost, you are taking steps to prevent your renovation from going over budget.
Additionally, a well-defined scope helps to minimize disputes between you and your contractor. Your scope (and contract) clearly lays out each of your responsibilities.
5. Create a comprehensive budget
Once you outline your renovation goals, requirements, and scope, it's time to create the budget and timeline.
Your budget and timeline are based on what you are trying to do and when you need it to be done. It's essential to be realistic about costs and scheduling. Listen to your general contractor during this process- they have valuable insights!
Furthermore, ensure you budget for the unexpected. Unforeseen expenses are incredibly common, even during the most carefully planned remodels. Including a 10% contingency to your budget can help you weather these costs.
6. How will you minimize disruptions to your business?
You want to minimize disruptions to your business during renovations. In order to do so, you need to make a plan. Depending on how extensive the remodel is, your employees may be able to relocate to another part of the building and continue work as usual.
However, you may need to find an off-site office solution for the duration of the renovation. Alternatively, your employees might be able to temporarily work from home.
Sticking to your timeline plays an important role in reducing downtime. If your project goes on for longer than expected, that's more time away from a fully functional office.
7. Post-renovation clean-up
Post-construction cleaning is not included in the services of most general contractors. However, it's an absolutely essential last step in the renovation process. After all, you want to get back to business as usual, which is not possible if your new office is a mess!
And the mess can be extensive. That's why your best option is to hire a professional cleaning service. They'll take care of everything and ensure your new office is spotless.
You need to arrange post-construction cleaning services. Royal Building Cleaning can help. We offer extensive renovation cleaning services for businesses in Toronto. Our team cleans every surface from top to bottom, getting your new space ready for you!
For example, our services include:
Dusting, vacuuming, sanitizing, scrubbing, and washing.
Glass and window cleaning.
Carpet steam cleaning.
New floor finishing (or refinishing).
Construction Cleaning Services in Toronto
RBC Clean provides professional construction cleaning services to businesses in Toronto. We also offer other commercial, industrial, institutional, recreational, and residential cleaning services.
To learn more about our construction cleaning services, call RBC Clean at 866-278-8208 or contact us here.