Is Industrial Cleaning Important?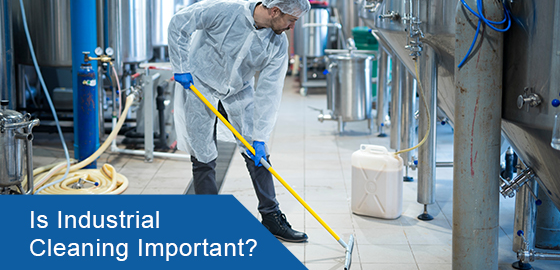 When people talk about cleaning, they usually think more about emptying the trash and cleaning the windows and carpets. Yet, what needs discussion is the industrial cleaning that will benefit the building, the environment, and your staff.
Yet what is it? You already got your air ducts and furnace cleaned and checked. The Air Conditioning units are routinely checked and maintained, so what else is there?
Industrial cleaning is all the other areas that you might not see. Industrial cleaning is a process which, certainly for factories, power plants, and other large commercial working floors, sees the floors cleaned and sanitized. This extends to cleaning and maintaining heavy machinery and the smaller things in between.
A Cleaner Building Leads To A Cleaner Environment
By having your factory floors, external air vents, and more professionally cleaned, you significantly impact the environment. Chemicals that are not harsh for the environment are correctly used, which will keep harmful additives and more out of runoff water.
With greener cleaning comes an improved local environment and local ecosystems. Greener cleaning also means less environmental waste, which goes a long way in the local environmental protection scheme.
Using local professional and expertly trained industrial cleaners helps to improve your carbon footprint. Clients will recognize this and lean toward your company more when making decisions.
Preventing the build-up of dirt on heavy equipment will prevent toxic fumes from developing, affecting your employees as they work and prolonging the machine's life span. With this improved working environment, your employees will be safer, and sickness rates will be lower.
You can focus on providing the service your clients expect without anything hanging over your head.
Save The Employee!
Specialized tools are sometimes required to ensure that industrial cleaning is completed correctly and efficiently. It involves additional employee training, which takes money, time, and so on.
Much industrial cleaning also comes with health and safety risks. Using a professional partner mitigates the need for additional risk assessments, as your partners will do that if required.
By knowing this is not part of their job roles, they can enjoy a clean and safe workplace, increase productivity, and everyone benefits from this.
In addition, your staff won't spend hours looking for things. Everything will be in the right place. Trained industrial cleaners will know where everything needs to be, so when they have cleaned, it all goes back to the right place. That way, you can save time looking for the important thing you need to do your job correctly.
In the long run, you save time and money by working with high-level industrial cleaning in Toronto.
A Shining Beacon On the Industrial Horizon
When your conference room is above the production floor, things can get dirtier than expected. But potential clients or even existing ones will notice, and that meeting has the potential to end a lot sooner than you thought.
The right level of cleaning is essential here too, and yes, industrial cleaning will be your secret weapon. Sometimes extra grime builds up that commercial cleaners just can't eliminate.
Proper deep cleaning removes all visual distractions from the floors, building exterior, and heavy equipment. Deep cleaning lets your clients and employees focus more on the job.
Some of the things you should expect from an expert cleaning company are:
Restrooms, locker rooms, and even shower facilities
Hard and even concrete floors
High-level vacuuming and dusting.
Additional services are assistance in cleaning for the preparation of site visits, client tours, and even audits offered by RBC Clean.
A good deep industrial clean will also help to protect your company's second most significant asset (the first being your employees). It would help if you had the equipment for your company to function and produce the goods and services for your clients.
Proper cleaning will help extend the life of the bigger stuff and the smaller items. From machine presses to the communal coffee pot, it's all taken care of properly.
Let Us Help You Clean Up Your Image and Keep Your Employees Safe
Industrial cleaning is essential, not only for the environment or your image but also for the health and safety of your employees. From ensuring oil, grease, and debris don't build up in heavy equipment to disinfecting and sanitizing common areas, industrial cleaning is more work than that of regular commercial cleaning and is more specialized.
Keeping common areas clean can be more challenging in industrial settings, so call the professionals at RBC Clean to take care of your particular needs at 1-855-493-9259 or book a quote online. We look forward to speaking with you.