Preparing Your Business for Winter: 6 Things to Keep In Mind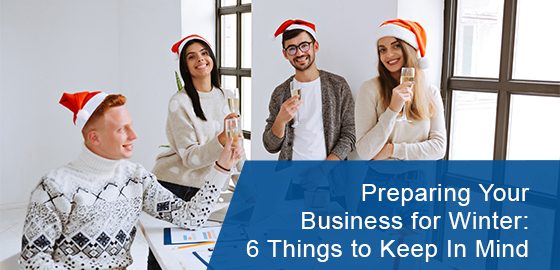 With the chilly winter season fast approaching, you may be thinking of ways to prepare your business for the cold weather, dark days and harsh conditions. Regardless of what the cold weather may bring, your business should run smoothly and efficiently without disruptions. Your employees need to feel safe, and your customers should always feel valued. This may entail taking extra measures to prepare your business for any obstacles that winter may bring. Please read below so that you can learn more about what your business needs to thrive in the wintertime.
Keep Floors Safe
Winter weather can wreak havoc on your floors and those who walk on them. This is especially true for entryways and halls that people frequently enter with muddy boots and shoes. Snow, slush, mud and salt can destroy your flooring and have it look like an absolute mess. Not to mention, it can become quite a recipe for disaster for employees or customers who are passing through in a rush and may cause slips, falls and accidents.

Slush and mud wears away at your carpet and tiles, causes odours, floor damage and can easily be tracked throughout the rest of your office. To keep your floors safe, clean and usable throughout the winter months, you should be arranging regular cleaning so that the situation never progresses far enough to cause harm and injury. Hire a professional office cleaner who can get the job done and maintain the cleanliness of your floors to ensure that mud, snow and salt don't become a bigger issue in the long run.
More Time Spent Inside
With winter bringing us chilly weather, snow and harsher conditions, many of us will be looking to stay inside more often than not. Likewise, your employees will spend more time in your establishment, taking breaks at their desks or in the kitchen, using the washroom and hanging around the common areas. With this increase of time spent inside, there should also be an increase in cleaning services. For example, if you already have a professional cleaning service scheduled, you may want to consider having them come in a few more times throughout the week until spring arrives. More garbage will accumulate, more dust, allergens and bacteria in the air now that employees and customers use the facilities more.
Cold and Flu Season
Winter is known to be the season of colds, flu and even injuries from slips or falls on the ice and hazardous weather conditions. Your business may usually anticipate a loss of customers, sales or an increase in employee sick days during this time. If you notice that to be the case, you can help by making your business clean and free from dirt, grime and excess bacteria. This lessens the chances of your employees getting sick and spreading illnesses from one person to another. Think about cleaning your office and having it disinfected and sanitized regularly to keep germs and disease at bay.
Keep Workers Comfortable
Ideally, a great office or workspace is comfortable for workers and can aid productivity with minimal distractions. By hiring a professional janitorial company, your workers will be able to reap the benefits of a clean space. This not only means increased productivity but a better mental state, less stress and overall comfort. Your employees will thank you for making their lives easier, cleaner and clutter-free.
Save Time and Money During Holidays
Winter holidays can be a busy time for many businesses. This is due to the influx of sales, customers and requests just in time for Christmas and New Year. You will likely have some sort of business plan in place to accommodate and deal with the flood of business around this time. 
You should also plan to keep your business clean and attractive during this time. Things can easily get out of hand, and being busy, it's easy to forget or put important cleaning tasks on the backburner. However, doing this can lead to problems and a loss of business later on, especially if staff and clients notice a decline in cleanliness. Instead, plan by hiring a cleaning service that can do it all for you and save both time and money during the busiest season of the year.
Maintain Your Reputation
As a business, you understand the importance of maintaining a good reputation and pleasing your customers. By keeping an attractive, clean and neat commercial space, you will solidify your reputation as a professional and trustworthy business. Your clients and staff will know that they can depend on you to keep them safe, comfortable and happy- even if the weather outside is frightful.
Winter can get particularly messy. However, that doesn't mean that your business needs to be. Make your business a haven from the cold by using professional cleaning services for your muddy floors and windows. Keep your business space looking great so that customers and staff will appreciate you and what you offer. 
For more information on janitorial services and our professional cleaning company, call RBC Clean at 1-866-278-8208 or contact us here.