The Importance of Keeping Common Areas in Your Condominium Clean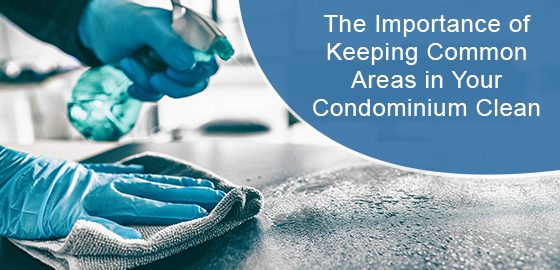 As a condo owner, you are highly responsible for maintaining the hygiene and cleanliness of the areas where residents frequent the most. Considering how closely condo residents live together and how often they come into contact with neighbours and high-touch surfaces, the risk of contracting viruses in your condo may be higher than normal.
Protecting the health and safety of your residents and staff through keeping common areas clean should be your first priority. In this article, we will explain the importance of maintaining a high level of sanitation in your condominium and provide you with tips on how to manage common areas.
Benefits of a Clean Condominium
Whether on-site staff are responsible for keeping the building clean and sanitized or you have hired a full cleaning crew to perform regular professional, in-depth cleaning, a clean condominium poses several benefits for both residents and staff.
1. Limit the Spread of Illnesses
Performing regular cleaning and disinfection of your condominium is important to prevent the spread of illnesses among residents and staff. As the pandemic trudges on and residents continue to worry about the spread of COVID-19, the risk of contracting the virus can be reduced greatly with high-level sanitation measures.
2. Better Space for Residents
People want to live in a place that is clean, sanitary, and attractive-looking. The more sanitary a common area is, the more inviting it will seem, meaning residents will feel more comfortable sitting and enjoying themselves. Providing several places for residents to mingle and perform daily tasks without the fear of coming into contact with harmful bacteria can help residents become more relaxed and confident in their condo's safety.
3. Higher Reputation
The more clean and well-kept your condo is, the more it will be viewed as a good and reputable place to live. The higher your condo's reputation and better the appearance of its common areas, the more likely you will attract new residents and be rewarded for your efforts.
How to Maintain Cleanliness in Common Areas
Close living quarters can pose risks for health and safety, but with the right precautions and sanitation measures, maintaining cleanliness in the common areas of your condominium should be simple and easy to follow.
1. Front Desk
This is the place that residents frequent daily to get information or pick up their packages, which means this area should be sanitized regularly. On top of sanitation, keep the top of the front desk area clear to maintain an organized appearance.
Consider keeping a bottle of hand sanitizer at the front desk where any guest or resident coming up can use on their hands before or after touching any surfaces. Facial tissues and/or masks may also be available to encourage residents to use them when showing signs of illness such as sneezing or coughing.
2. Entrances
The entrance is the place where guests and residents will come and go, but is also the one place that is touched before getting to the hand sanitizer you probably offer at the front desk or lobby.
The areas to pay the most attention to include doorknobs, push bars, and automatic door buttons. Considering how often these surfaces are touched, they should be sanitized multiple times a day, preferably during or after high-traffic times such as mornings and evenings.
3. Elevators and Stairs
Elevators and staircases are tiny, confined spaces with several high-touch surfaces that, if not properly cleaned and disinfected, can spread illnesses like wildfire.
In an elevator, buttons should be sanitized frequently, if not multiple times a day. During the pandemic, a more serious course of action may be taken to reduce the risk of spreading COVID-19. A great way to do this would be to limit the number of passengers allowed in each elevator ride, preventing the risk of one-on-one transmission.
As for staircases, railings can also be a breeding ground for bacteria and illnesses. Wipe down all railings in the building regularly to clean and disinfect them.
4. Laundry Facilities
Usually, condominiums will have a communal laundry facility where residents will share washers and dryers to do their laundry. That being said, when loads of laundry are coming in from multiple streams of people, clothing can also bring in multiple sources of bacteria and viruses.
During the COVID-19 pandemic, social distancing measures may also be put in place to prevent one-on-one transmission. In laundry facilities with multiple washers and dryers, consider encouraging residents to maintain social distancing by staying at least 6 feet apart from each other. Even so, a room limit capacity may also be used to prevent too many people from being in close proximity to each other.
Posting a cleaning schedule within the facility will also let residents know when it will be cleaned. During the cleaning, focus on the handles and dials on washers and dryers, as well as any other areas that residents may frequently use while doing their laundry.
5. Public Restrooms
Considering the greater risk for bacterial contamination and transmission in public restrooms, the communal washroom in your condominium should be noted as one of the more high-risk areas.
In restrooms, you'll want to pay more attention to highly-used areas such as toilets and sinks, and especially the smaller details like doorknobs, toilet handles, and faucets. Keep a steady supply of paper towels, hand soap, and/or sanitizer available for guests and residents to use.
When to Seek Out a Professional
Many times, it is impossible to do everything on your own, especially when you're the owner of a condominium. While smaller cleaning and disinfecting tasks can easily be handled by on-site staff, it may be time to seek out a professional if you are looking to complete a bigger project like floor or wall cleaning.
At RBC Clean, we offer professional cleaning services that are guaranteed to leave your condominium glistening and free of dirt and bacteria. Our cleaning supplies and tools are specially designed to effectively disinfect high-touch surfaces and pick up even the smallest particles of dirt.
Located in Aurora, and servicing all of Southern Ontario and the GTA, our team of professionals are here to help you fulfill all your cleaning needs. For more information on condominium cleaning and regular maintenance, contact us today at 1-855-493-9259 or 289-301-2095.