Tinted Office Windows: The Benefits, How to Maintain Them, and When to Call a Professional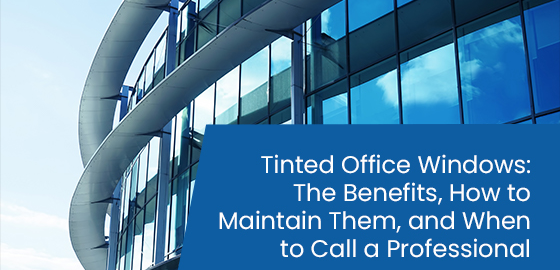 Tinted windows are very popular and appear everywhere, from tall office buildings to corner shops and cars. Typically, the main reason for tinted windows is to block out or offer protection from the sun, especially on the upper floors of tall buildings.
However, any material added to a surface will change how the new surface needs to be cleaned. Tinted windows are no different. Unfortunately, there are products that you may use in your daily cleaning that will strip the tint away, leaving holes and reducing its function.
So, what should you be aware of when maintaining tinted windows? Let's start at the beginning and explore the benefits, maintenance options, and knowing when a professional is needed (hint: it's always a good idea to hire a professional to help protect your investment).
The Upside to No Bright Side
Keeping the sun out of your eyes while working is the primary reason for getting a tint on the windows. Tinted windows, however, offer more than just shade.
UVA and UVB rays are the leading causes of skin issues following prolonged exposure. By keeping out the glare, you also reduce these rays coming in and being magnified through the glass in the windows.
The same glare and rays can also cause fabrics to fade. Thus, office furniture, sofas, and chairs in the waiting area can start to discolour and fade, leaving them to look older than they are.
As a security measure, tints keep out the prying eyes of non-employees. This allows you to work on a computer with confidential documents or talk to clients privately.
However, tints can go beyond security and health concerns. They also reduce energy bills and can be a decorative feature with your company branding and still perform as intended.
The Right Tools for the Job
Let's say you have just spent thousands of dollars tinting all your windows. The last thing you want to do now is use the wrong cleaning products and strip away all your money.
As previously mentioned, anything applied to a surface changes the way it needs to be cleaned. With tinting, you are no longer cleaning a window; you are now cleaning a specialized film that covers the window.
Some chemicals that are commonly found in the majority of cleaning products will actually damage the film, removing its ability to filter out UV rays and glare. They can even remove the film in part or in full.
A product that is high in ammonia or acid will wear away the film in a very short time. This may not become noticeable until a drastic weather change. The wrong cleaning solutions can weaken the integrity of the tint and cause it to crack during sudden temperature changes.
This damage will not only make the film redundant but will age your office space and make it look unmaintained and unwelcoming.
Another large risk of damaging the tint is the tools used to clean the windows. Squeegees with sharp edges can scrap the tint away, exposing the glass beneath. Even paper towels can rub away at the film and dull its effectiveness over time.
When it comes to window cleaning in Toronto, professional cleaners understand the delicacy of window tints and how to clean them properly. With the right solutions and tools, especially for windows that require a hoist lift for cleaning, professional cleaners will save you a lot of money and give your investment a longer life span.
Calling in the Professionals
Professional window cleaning services in Toronto are always the best answer, especially when it comes to high-rise buildings. A professional crew can clean the outside of the windows on the 18th floor, for example, much safer than the office staff inside.
Aside from using the right products and methods to clean the windows, there are benefits to using a professional cleaning service that goes beyond a streak-free shine.
With access to hoist lifts, safety gear, and the appropriate training, window cleaning crews can easily and carefully glide up and down the outside of a tall building and clean without interrupting the day-to-day operations of your business.
The right products, which are purchased in bulk to help keep your costs down, mean that the windows and tint will last through the changing seasons, different weather, and regular cleaning without issues.
Most importantly, the cleaning crew sees how the tint is holding up. They can examine the window frames, sills, and structure around the window and report any issues. This allows you to deal with problems before they are large enough for staff and clients to see them.
You should call in the professionals as soon as the tint is applied. From the moment it is on the windows, you should be considering how to protect this large financial investment. In fact, window cleaning professionals are the best way to do so.
The Right Choice for Your Windows
RBC Clean is your year-round, all-weather professional cleaning service that understands the need for care when it comes to your home or office. We are your local experts in the maintenance of tinted windows, as well as your other cleaning needs.
With expert eyes and knowledge to see how often your windows should be cleaned and offering packages to suit your budget and needs, your windows are in the best hands in the industry.
Call us today at 1-855-493-9259 and speak to one of our highly trained professionals who will happily answer all your questions. Or, visit us online and get a free quote. Let's talk and get your space cleaned up and shining bright today!