The Benefits of Professional Cleaning During and After a Business Renovation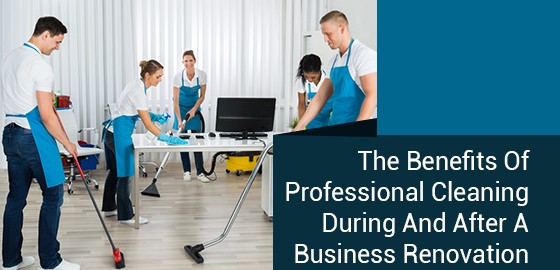 When moving out of a home or undertaking some kind of remodel or renovation, cleaning of the construction site tends to be the last thing on people's minds. Renovation areas are supposed to be dirty, right? Cleaning doesn't register as important, especially when business owners are dealing with reasonable concerns about the scope of the project or the length of time it's going to take.
The renovation is going to create a mess and cleaning up may not be part of the contractor's job description. Before you move desk, chairs, and employees back into the area, consider the benefits of having a professional cleaning crew take care of the space.
Professional Renovation Cleaning Saves You the Hassle
The renovation crew was hired due to their expertise in a variety of construction-related tasks. There's a good chance cleanup isn't their specialty. Plus, amateur cleaners will take longer to clean a construction mess.
To avoid lost revenue and uncomfortable conversations, you need professional cleaners to take care of the construction site and have your office back in working order.
Professional Renovation Cleaning is Faster
RBC Clean will take care of things that you might overlook or not even realize are necessary. It's an even better idea to bring in a professional cleaning service which can handle the job in no time!
There's a good chance that the biggest problem you'll have will be the dust. Dust and dirt in a room that's not cleaned thoroughly can cause respiratory issues and aggravate those with asthma.
Construction Cleaning by Professionals is Affordable
Sometimes business owners and homeowners hesitate to bring in a professional cleaning crew because they don't want to pay extra costs. But the use of a cleaning crew is actually a more economical decision than cleaning up yourself. Whether you're in a home or a business, trying to clean up the construction area yourself opens you to potential hazards and takes longer than you've planned.
Similarly, asking the original construction crew to do the cleanup can result in a half-done job and increased expenses. The most fiscally responsible decision is to bring in professionals who can do a thorough and efficient job.
A professional cleaning service will provide the following:
Modern cleaning technology and equipment to do the most thorough job

Consultations with experienced cleaners and careful management of cleaning staff

Elimination of harmful chemical odours and responsible handling dusty areas for better air quality

Efficient cleaning completed within hours or days instead of weeks

Affordable cleaning practices to save you money
If you would like to learn more, call RBC Clean today at 1-866-278-8208.