Things you Should Consider when Hiring a Commercial Cleaning Service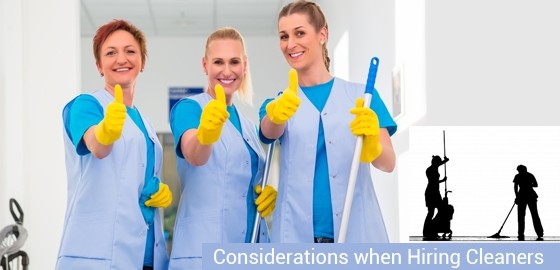 Hiring a commercial cleaning service requires slightly more effort than hiring a cleaner for your own home. Because the facility you're hiring them to clean is your business, you should hold them to a high standard, and we'll outline the necessary considerations below.
Read Online Reviews
Just because a cleaning company has been in business for a short time doesn't guarantee that it'll provide poor services, but working with a company that has been in the industry for some time means that it has survived long enough to be profitable to the owners.
For good cleaning companies, they should be accumulating experience and adjusting their best practices as they go along. A reputable business has a lot to lose when their image is damaged, so they have every incentive to protect their reputation.
To ensure that their claims about customer satisfaction are accurate, read their online reviews. You'll get a sense of their work ethic, professionalism, and trustworthiness before even making contact!
What Kind of Assurance can they Provide?
Being properly licensed, bonded, and insured can go a long way to attest to how the company takes steps to protect themselves and their clients. Being bonded means funds have been secured in the case where customers decide to pursue the company for damages.
Many above board companies will be bonded, and it's not meant as an indicator of the company's performance. In addition, many companies will have a customer satisfaction guarantee, which you should inquire about.
Scope of Service
Not every cleaning company provides a full set of services, and in fact some cleaning operations will specialize in a specific area of cleaning. Most offices will only require basic cleaning services, but if you have special cleaning needs it's best to inquire about how they're able to meet said needs. Disposal of your trash can be a serious consideration if your waste contains sensitive information or hazardous materials, and it's a blunder to assume that proper disposal will automatically take place. Lastly, if you're concerned about being environmentally friendly you can always inquire about green products and practices!
You may not consider emergency cleaning services a necessity but disasters that are out of your hands can happen. Failure in the building's plumbing or electrical can lead to a big mess that will affect your employees, your work environment and even your clients' impression of your company. Ask about emergency clean up, or check out our services on our website for more information.
Source