Top 6 Reasons You Need to Hire a Professional Janitorial Services Company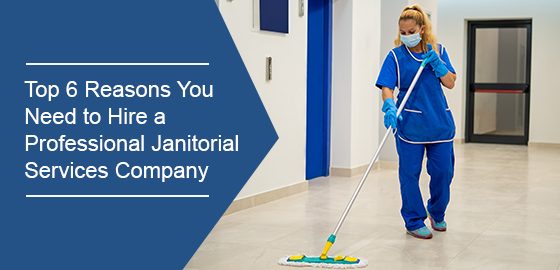 Your business's cleanliness is one of the most important aspects of attracting and keeping new customers and business. New and existing clients will judge the quality of your business by the cleanliness, look and appearance of your storefront, office space or commercial building.
You wouldn't want to eat at a restaurant with filthy floors or toilets, no matter how fancy the food is. And while the quality of your products or services is essential, your business's cleanliness will also go a long way with making a good, long-lasting impression with your customers, employees and important visitors.
Not to mention, with the amount of time you and your employees dedicate to being in your office, you will want to keep your space looking as attractive as your own homes. Your staff will probably appreciate a clean space to work in where they feel safe and comfortable.
Suppose you are a small business that's just starting out or even an experienced business owner. In that case, you might have taken up cleaning as a duty carried out by yourself or treated it as something to tack onto your staff's responsibilities. However, this can be an unwanted distraction for you and your employees, resulting in cleaning duties not being taken as seriously as they should be.
Running a business, whether that be a small business or a large corporation, definitely has its challenges. Keeping things clean should be hassle and worry-free. That is why you should invest in hiring a professional janitorial cleaning service to get the job right, so you don't have to add it to the long list of things you already need to manage on your own.
Here are the top 6 reasons why you should invest in hiring professional cleaners who specialize in offices and commercial spaces:
1. Save time for what's most important for your business
You should invest in professional cleaning services because it frees up more space on your plate for what matters. The core matters of your business should never be put on the backburner. Most importantly, the primary business operations that bring you revenue! Tasks like taking out the garbage, dusting and wiping down surfaces can take away from your business' overall efficiency.
2. Increase the productivity of your business and employees
You didn't hire your employees to become cleaners. You hired them for the other vital skills they bring to the table. Your days will go smoother if you can let them focus on their strengths without having to worry about any extra cleaning duties. The time you and your staff spend on cleaning the floors could help clients and improve your business instead.
3. Keep your employees healthier and happier
Keeping your office or commercial space clean conveys that you value your employees' and clients' happiness and health. That will produce a company culture that is healthy and productive. Working in a tidy space results in an atmosphere that is professional and will result in professional conduct from staff and customers alike.
Keeping it clean will also improve your employees' health, and they will suffer from fewer sick days, which will help your bottom line. Germs can spread quickly in the workplace because there are many shared spaces and equipment, like the company printer or fax machine.
Other things like doorknobs and phones are perfect places for germs and other viruses to transfer to different hosts. If the flu is sweeping through your office, this will put more strain on the healthy employees who are left behind.
4. Professional cleaners are experts who provide high-quality cleaning
Professional janitorial cleaners are specially trained to provide high-quality cleaning services. That means that they offer a level of cleaning that can't be achieved by yourself. By hiring professional janitorial services, you ensure that the job is done right.
5. Full and convenient cleaning services
Once you outsource your cleaning duties to a professional cleaning service, they will be able to handle any type of cleaning that your business or office requires. You won't need to keep finding new cleaning companies to carry out different cleaning tasks, as most professional cleaning services will handle a range of cleaning services.
6. Save money on costs in the long run
When you in-source your cleaning, this gives you more responsibilities and causes you to spend more money in the long run. You'll need to make sure you always have the supplies and equipment you need to clean properly. You'll need to continually invest in things like vacuum cleaners and other cleaning products. You might even need to start hiring your team of cleaners, who require salaries and bonuses themselves.
When you outsource to a professional janitorial service, these costs will be absorbed by the contractor. These cleaning services will most likely offer you a flat rate for their services. This rate is significantly lower than if you were to conduct the cleaning on your own, not to mention saving you time.
Running your business provides you with enough challenges on its own without having the added responsibility of handling the cleaning of your facility. Hiring a professional cleaning service to help you manage it will eliminate these unnecessary challenges and stress.
To learn more about why you need to hire a professional janitorial services company in Southern Ontario and the GTA, call RBC Clean today at 1-888-462-5555 or contact us here.