Why You Need to Clean High Levels in Your Business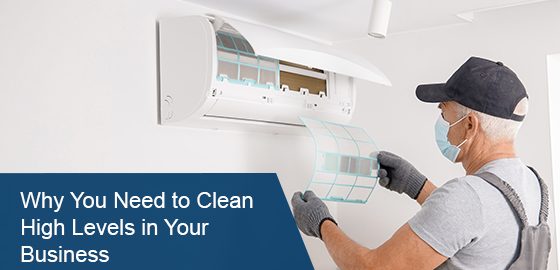 If you're a business owner, you know that keeping your business in optimal condition is key to maintaining a profitable business. That means keeping your store or office squeaky clean. But what about the places that are hard to reach?
High shelves, enclaves, air ducts and other overhead areas are often the most neglected areas because they are simply not visible. Out of sight, out of mind, as the saying goes. Even if you hire a regular janitorial service and stick to a strict cleaning schedule, it still won't be enough to address overhead cleaning in high areas.
If these areas are left alone to collect dust for an extended period, it could damage your property. Excess dust and debris also pose a health hazard. High levels of dust, which accumulate in the ceilings or other high areas, are flammable. They can endanger not only your property but your employees and customers as well. This build-up can also harm your property by lowering its value.
What is high-level cleaning?
High-level cleaning is precisely what it sounds like. It is the process of cleaning hard to reach areas (usually higher than 4 to 5 metres). These places often go untouched because they are too tough or time-consuming to get to. They are also considered above 'working height' to most janitorial services.
Most common janitorial services do not have the equipment to deal with this type of cleaning. For example, they do not have access to ladders that are tall enough. Cleaning services like RBC Clean are equipped for high-level cleaning and will bring all the necessary equipment including articulating booms or scissor lifts.
All office and commercial spaces would benefit from high-level dusting and cleaning because it will prevent the dangerous build-up of dust and other grime. That also reduces air pollution, allergens, and other irritants that can affect your staff and customers.
Not only will these areas be dusted, but they will also be vacuumed and scrubbed of any built-up grime. We recommend that you complete high-level cleaning out of office hours when your office or commercial building is empty to ensure your staff's safety.
Assess High-Level Areas in Your Business
If possible, take a look at your air ducts and other high areas in your office or commercial building. Can you see dust or dirt building up? If you can see it with the naked eye, then it is long overdue for a cleaning.
High-level dusting and cleaning should be conducted at least twice per year so you can maintain a healthy space. If dust and dirt are left to build up over time, it could end up falling from your rafters onto your staff, clients, or even products during manufacturing. And even if your desks and floors are kept spotless, if there is debris up above, your air will remain full of irritants circulating your building.
Areas that Require High-Level Cleaning:
Light fixtures
Structural supports including roof trusses and support beam fans
Electrical conduit
Production equipment, platforms, tubing and enclosures racking and shelving
High-level walls and ledges
Vent covers and diffuser grills
Props, signage and displays
Exposed ductwork and exterior of HVAC systems
Fire sprinklers, gas and water lines
High-Risk Industries That Require High-Level Cleaning
If your commercial space deals with food and drink or manufacturing, these industries are more at risk of collecting dust and debris in hard to reach areas. Any sectors that transport, store, or process any kinds of raw ingredients or materials will produce high levels of dust and debris. This dirt goes into the air and settles on the walls, ceiling, air ducts, machinery and other high places.
These particles might seem harmless at first glance, but it can lead to creating the perfect conditions for an explosion if the materials are highly combustible. It might take only a single spark for disaster to happen. That's why it is so crucial to keep the area as dust-free as possible.
RBC Clean provides high-level cleaning services to:
Warehouses
Manufacturing plants
Retail stores
Recreational facilities
Residential homes and multi-tenant facilities
And much more
Why You Need to Hire Professional Commercial Cleaners
Cleaning high and hard to reach places can prove to be quite tricky for you or your regular janitorial service. That's the reason we don't recommend you try it yourself. It could result in injury or end up being a lot of effort, and you might miss a few spots in the process.
High-level dusting and cleaning require professional training to get it right. Our professional cleaners at RBC Clean use special techniques and have the appropriate training to ensure that all harmful dust, debris and bacteria are safely removed using the correct equipment.
The use of specialized vacuums to remove dust is crucial and ensures that dust particles are not just moved around to circulate back into your office air. We are trained to follow safety procedures that keep you, your staff and your clients safe during the entire cleaning process. This high-level cleaning service should be carried out by a professional team who know what they are doing and how to adapt to your requirements.
Our team at RBC Clean can provide you with complete and efficient cleaning beyond the scope of your regular janitorial service.
To learn more about why you need high-level cleaning in your business, call RBC Clean today at 1-888-463-5555 or contact us here. We are located in Aurora, and service all of Southern Ontario and the GTA.