The Importance of Sanitizing High-Touch Surfaces During COVID-19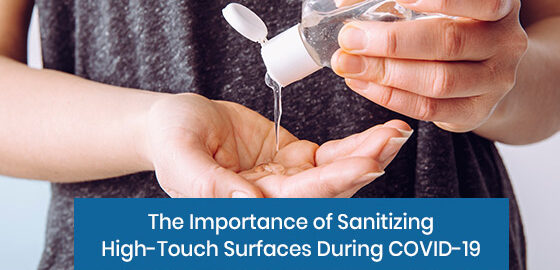 While the government is letting go of certain COVID-19 restrictions put in place earlier this year, it's still imperative that you and your loved ones follow Public Health guidelines, continue social distancing, wear a mask, and properly clean and sanitize your workplace regularly. Even though it may seem like things are gradually returning to normal, it's best to keep safeguards in place so we can protect each other and ourselves from the spread of the virus. Doing your part goes a long way in creating a healthier and happier society.
For your convenience, our team at RBC Clean has put together a guide on the importance of regularly sanitizing your space and surfaces that are prone to daily contact. Located in Aurora and proudly serving the GTA and southern Ontario, RBC Clean specializes in professional cleaning services and has the expertise and knowledge to ensure your residential or business space is sparkling clean and fresh. Read on to discover the ways in which you should be cleaning and disinfecting during COVID-19 and even as it begins to phase out.
Cleaning vs. Disinfecting
While we recommend that you both clean and disinfect, you should recognize the difference between the two. Cleaning removes impurities, whereas disinfecting kills bacteria and viruses. Whenever we are in contact with others or go outside, it's important to both clean and disinfect surfaces that have been touched, such as doorknobs, countertops, and more. If you have packages or products coming into your home from the outside, it's a good idea to clean and disinfect these as well, since they could harbour dangerous bacteria and COVID-19 pathogens.
Disinfectants that Kill COVID-19
It's important to remember that not all cleaning products you see in the store can actually kill COVID-19 pathogens. Some household products that kill the novel Coronavirus include Purell, Lysol, Clorox, Hydrogen Peroxide, and Isopropyl Alcohol. Remember to wear disposable gloves while disinfecting and discard them properly once done. It is important to understand the contact time recommended for each product to effectively kill the virus.
You can also check the Government of Canada website for a list of disinfectants with evidence for use against COVID-19:
Wash Your Hands and Clean Electronics
As you may already know, the CDC recommends a 20-second hand wash using soap and water to thoroughly clean the hands, wrists, and underneath the fingernails. Remember to do this often and whenever you prepare food, eat, come home from outside, use the washroom, or visit public places. If you are outside, make it a habit not to touch your face, specifically areas such as your nose, eyes, and mouth with unwashed hands. Wearing a mask can help with this as well. While keeping these guidelines in mind, don't overlook your electronics and your smartphone, which you touch daily. Any touch screens, keyboards, remotes, and other electronics you use daily should be cleaned and disinfected as well.
Thorough Cleaning of Hard Surfaces
The CDC recommends cleaning and sanitizing high-touch surfaces regularly to prevent the spread of COVID-19. In fact, the novel Coronavirus can live on cardboard for 24 hours and has been proven to live on surfaces like stainless steel and plastic for even longer: approximately 2–3 days. Considering this, some important high-touch areas to disinfect, include:
Light switches
Toilet seats and handles
Faucets
Kitchen appliances
Stairway railings
Bathroom and kitchen counters
Cabinet and drawer knobs
Doorknobs and handles
Soft Surfaces Need Cleaning Regularly
In addition to your hard surfaces, like countertops and appliances, your soft items need cleaning on a regular basis as well and should not be overlooked. Disinfect your clothes after wearing them outside by putting them in your washing machine with laundry detergent and then drying on high heat. Wash your hands after handling dirty laundry and try not to let dirty laundry come into contact with clean surfaces. If your dirty clothes do come into contact with clean surfaces inside your home, it's important to sanitize those areas as well.
If Someone at Home is Sick
If a family member in your home becomes ill, you will need to take extra precautions to keep other family members healthy while still caring for the sick person. Most people with COVID-19 are able to recover safely at home and exhibit only mild symptoms. If you have someone in your home with COVID-19, they should stay in their own bedroom with their own washroom as well. Contact with the sick person should be kept at a minimum, and gloves should be used when taking out their trash or washing their dishes and clothes. If possible, the infected person should clean their own space so as not to expose other family members to the virus. If this isn't possible, then you should wait as long as you can before cleaning and sanitizing their space.
Stay Home When You Can
Social distancing, as well as staying home as much as possible and avoiding crowds and large gatherings, is a good way to prevent the spread of COVID-19. It can be scary and intimidating to imagine that when you leave your house, you are at risk of becoming exposed to the virus. That's why it's so important to follow CDC guidelines and sanitize your high-touch surfaces regularly.
At RBC Clean, we understand how difficult it can be to ensure that your home or workspace gets disinfected regularly and the stress that can come from uncertainty. This is why we offer a variety of services in the GTA, such as custom cleaning, maid services, janitorial cleaning, and more.
During this difficult time, it's especially important to protect yourself, your family, and others by cleaning and sanitizing the surfaces of your home frequently. Even if no one is ill and you haven't been in contact with a sick person, disinfecting regularly can help keep you and your family healthy. For more information on professional cleaning services for your home or office and COVID-19 cleaning, please call RBC Clean at 1-866-278-8208 or contact us here. We take extra care and precautions to ensure our customers stay healthy, happy, and extra clean. Call us today, and we would be happy to provide a quick quote for our cleaning services.