4 Spring Cleaning Tips For Small Businesses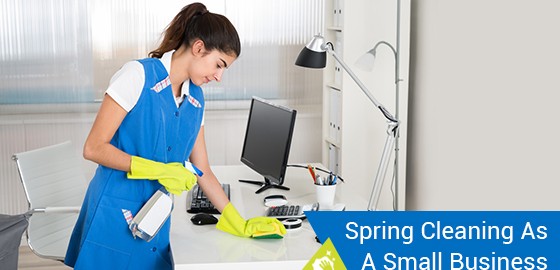 Spring is here and it is time to start your spring cleaning regimen. Spring cleaning is not very pleasant, but it is necessary, especially if you are a small business. A clean and organized work space does wonders for employee's productivity and mental health, and will help make sure your second quarter of the year gets off to the best possible start. If you are a small business owner and are looking to start your office cleaning for the spring, below are four spring cleaning tips for small businesses.
Go Green
Going green can't be recommended enough. Not only do green cleaning products help to reduce your environmental footprint and the amount of harmful chemicals that you are disposing of, but they are often much cheaper than conventional cleaning products.
Eliminate Paper (Go Digital)
If you are a small businesses owner you know that one of the biggest clutterers of office space is paper. We collect paper every single day, after every single transaction we make. One of the biggest things that you can do while undertaking your business' spring cleaning this year is to declutter your office space and go digital with as much of your paper as possible. Scan, take photos and back up to the cloud, then recycle, or, if need be, store your hard copies somewhere offsite.
Air Filter
If you noticed a slump in productivity last year for some reason and can't quite put your finger on it, it might have to do with your air quality. Consider investing in an air filter this spring. You will be surprised at just how many allergens and how much dust an air filter will eliminate from your office's air.
Disinfect
Winter is cold and flu season and many people around the office were probably sick over the last few months. It is a good idea to start out the new season with a thorough disinfecting of everything in the office. This means wiping down with disinfecting solution everything from keyboards, to door handles, to microwave doors—basically anything a lot of people constantly have their hands on.
Spring cleaning doesn't have to consume your life, but it should be thorough and focused on maximizing productivity. People don't want to work around germs, they want to breathe easy while they work, and they want the clutter around their work spaces minimized. Keep the above small business spring cleaning tips in mind and put your best foot forward this spring.