5 Ways a Professional Office Cleaning Service Can Help Your Business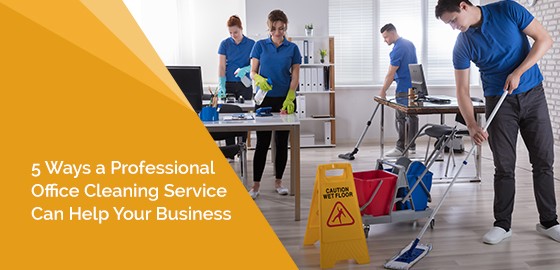 Most people spend more time working than they do at home. In many ways, the office doubles as a second home for your employees. So why not reward their hard work? Why not provide your loyal employees with a clean and healthy work environment?
If you have hired a professional office cleaning service, then you are probably aware of their many benefits. They have been linked to increased workplace efficiency, safety, morale, positive mental health, respect, appearance, and much more. By hiring someone to do the dirty work, you can spend less time worrying about the details and more time being productive.
Here are the top five ways that a professional office cleaning service can help your business thrive.
1. Fosters good mental health
Maintaining a healthy workplace is good for everyone. A dirty, cluttered, and unkempt facility can impact how an individual feels at work. Since employees spend the majority of the week in their workspace, an unacceptable environment not only means decreased productivity for the company but also reduced mental health. This can cause hostility and conflict in the workplace, and can even cause employees to begin missing work or resign from their positions if the problem persists.
In an article published by Psychology Today, associate professor Nicole R. Keith, Ph.D., research scientist and professor at Indiana University, "found that people with clean houses are healthier than people with messy houses." The reason is that cleanliness causes people to feel relaxed and confident even when in a stressful situation. If work is already stressful, then there is no doubt that clutter and dirt are not helping anyone clear their minds and get to work.
2. Saves time and money
When the office begins to get messy, employees often waste time "cleaning up." First of all, it is not their job to be the office janitor. Second, by delegating an employee to this task you are decreasing the overall productivity of your business.
Investing in an office cleaning company means that work stays on track and you have the right manpower to get the job done right.
3. Creates the right first impression
Cleanliness is one of the most obvious signs of professionalism. How your reception area, boardroom, and restrooms look makes a huge impression on your client base. People want to feel valued and if you are presenting an unclean workplace, then you are telling your clients that they don't matter.
If you offer a quality service, everything you do should reflect that. The best way to establish your business as a professional establishment is by allowing a clean and organized space to flourish.
4. Decreased employee absenteeism
Cleanliness issues may be affecting your employee's attendance, or, you may be suffering from absenteeism. Absenteeism is an employee's intentional or habitual absence from work. However, there are often valid reasons why someone might not be showing up for work. If you are providing a poor quality working environment, even your employees are not going to take your business seriously.
5. Long-term Investment in a Clean Future
People tend to care less about taking care of their environment when it is dirty. What's another coffee stain when that is the standard that has been set for your business?
Working with a professional office cleaning service means that you can keep your office looking pristine and respectable. Carpets, chairs, and tables will last longer if they are looked after on a regular basis. Think about office cleanliness like investing in the future of your company.
For more information about keeping your office clean, call RBC Clean at 289-80-7694 or contact us here.