5 Ways Office Cleaning Can Help Improve Your Business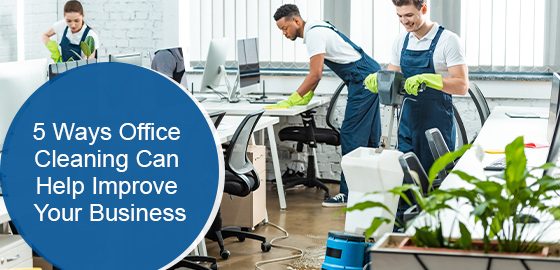 Cleanliness is crucial to any workplace, and it's no surprise that it has become a top priority for many businesses during COVID-19. Now more than ever, business owners and entrepreneurs are placing emphasis on the cleanliness and sanitation practices of their businesses. During these times, proper sanitation and disinfection procedures are paramount to a customer's decision to go to or even consider your business. Employees are holding their employers accountable for the cleanliness of their workplaces as well.
With the spotlight on cleaning practices, it's safe to say that any business can benefit greatly from the use of professional cleaning services. After all, it requires the work of a dedicated and knowledgeable team to ensure that requirements are met, and your business stays in the best condition for employees and/or customers to feel safe.
Improve Your Brand and Reputation
It goes without saying that a clean, organized, and efficient workspace will do wonders in making a good impression on both your customers and employees. For example, if you own a restaurant or even a retail store, customers will notice and feel more comfortable if the environment is one that is consistently kept clean, sanitized, and organized. They will be more inclined to come back, and their good impressions will reflect on your brand and how they react to your company. Likewise, employees will trust in you and your ability to keep them safe and provide the tools for them to continue doing their job.
Improves Mental and Physical Health
Proper and professional cleaning services at your place of business will help employees focus better on their job duties rather than having to take on additional cleaning tasks. They will be able to come to work ready for the day without worrying about whether their stations are clean or not.
This will create a healthier work environment and boost productivity as well as mental health.
In addition, with proper cleaning procedures performed by professionals, the workplace will harbour fewer germs, dirt, dust, and bacteria. This means that there will potentially be fewer chances for employees to become sick and, therefore, the number of sick days taken by employees will be reduced. The air quality will also be improved so that those who suffer from seasonal allergies or illnesses can breathe a sigh of relief when coming into work.
Professional Products and Supplies
When you outsource cleaning responsibilities, you are essentially ensuring that sanitization and disinfection will be done by professionals using professional-grade cleaning and disinfecting products.
Professional cleaning companies have the tools and supplies needed to get the job done right the first time around. They have already done the research and come equipped with professional knowledge and expertise so that you don't have to worry about the cleanliness of your business.
Simply leave it to the professionals and rest assured that the job is well done, using only the best products that are guaranteed to clean and disinfect to help reduce the spread of germs and viruses.
Reduces Liability
Another benefit of hiring professional cleaners for office cleaning services is that it reduces the risk of your business (or you) being liable for accidents or sickness that may occur at the workplace. For example, if a workplace is not cleaned properly, employees may take it upon themselves to clean certain areas, which may result in accidents or injuries. Or, perhaps, lingering dust and dirt in the workplace when left unmanaged can lead to certain respiratory diseases or illnesses for employees.
In order to avoid these circumstances altogether, use the services of a reputable and professional cleaning company that can tackle any mess or issue promptly and properly.
Peace of Mind and Less Stress
At the end of the day, you want to make your business more efficient and ensure that it runs smoothly without piling on additional work for yourself or your employees. Outsourcing your cleaning services can help greatly with this. It's one less thing for you to worry about and leaves more time for you to focus on sales goals, business opportunities, and keeping your customers and employees satisfied.
Cleaning and keeping your business clean and sanitized is a big job in itself. That's why you should utilize the services of a professional cleaning company so that you and your employees can focus on the actual work of building your business. Remember that you and your employees will thrive in an environment where everyone feels clean, safe, and not at risk of contracting COVID-19 or any other illness.
Contact RBC Clean Today
For more information on office cleaning services in Southern Ontario and the GTA, please call RBC Clean at 1-866-278-8208 or contact us here. Located in Aurora, we offer enhanced cleaning services and are dedicated to providing safe and effective cleaning and sanitizing solutions to our clients. Contact us today for more information and to get a quick quote.