6 Reasons to Get Your Office Professionally Cleaned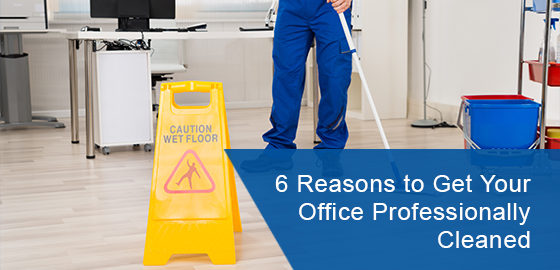 The appearance of an office reflects the performance of the company. A well-maintained office saves money and improves the overall quality of business. Offices usually span over large areas; that is why maintaining every corner can get exhausting.
Although it can be easy to get complacent, more than a superficial cleaning every now and then is necessary for all businesses. A business owner's top priority should be maintaining hygiene and cleanliness in the office for the well-being of their employees. It also helps to attract the right kind of business by keeping your office clean, safe, and dirt-free.
In this article, we bring you six reasons why offices should be professionally cleaned.
1. Avoid accidents
Slippery surfaces have accounted for major accidents on office premises. Moreover, any amount of debris blocking the walkways could be a cause for concern. If any of your employees get hurt due to ignored debris lying around the office, the company could be faced with insurance paperwork. A professional cleaning service takes care of these incidents and makes your workplace safe and accident-proof for all employees.
2. Keep employees satisfied
Employees spend a major part of their day in the same facility. Indeed, the office is like a second home to them. They are likely to feel distracted and emotionally unhappy in a dirty workspace, as it can impact their morale and hamper their productivity. These circumstances can indirectly affect the business.
Cluttered spaces are demotivating to employees and can also lead to a lag in business. This kind of atmosphere can even affect the company's schedule of deliverables. On the other hand, a clean working environment makes employees feel valued and helps them focus on their work. It is smart to invest in a professional janitorial cleaning service for the overall growth of the company.
3. Build a positive image
Regular maintenance of their office premises can help brands get positive recognition from potential and current clients. The organization and cleanliness of an office reflect a company's attitude toward doing business. It impacts prospective clients and employees positively.
An office's setting is the first thing that a client sees before doing further business. A clean space will thus earn you extra brownie points with those clients. It also shows your seriousness in the hygiene and sanitation of your office. A spotless-clean establishment says a lot about how the employees are being treated, as well.
4. Maintain equipment
Accumulated dust on electronic machines in the office could have damaging effects on their lifespan. Nobody wants to spend a fortune on their maintenance costs. These electronic equipment are essential for daily activities and need to be handled with care.
Getting the office professionally cleaned ensures that the accumulation of dust and debris does not affect the life of the equipment. It saves any additional costs and helps avoid future performance issues. Moreover, it will be hygienic for the employees to share this equipment across the workplace if they are cleaned properly.
5. Avoid health risks
In the post-pandemic era, employees should be protected from any health and safety concerns in the office. If there are germs and pollutants circulating on the premises, it could impact the health of the staff. They are likely to take sick leaves, which will further hamper the productivity of the company.
It is also possible that the office could become a hotbed of infections, costing more in the long run. If this continues, your company is likely to lose employees and clients at the same time.
6. Save time
Running a business requires careful management of time. Even the employees are on a tight schedule trying to meet their deadlines. Having the employees do the cleaning work will affect the overall performance of the company.
If they are allergic to dust particles, it will further worsen their health conditions at work. So, focus on strategizing rather than worrying about the mould building up in the corner of your office, and hire a professional cleaning team.
Professional cleaning services are fully equipped to take care of the cleanliness and organization of an office. They do more than just take the garbage out and mop the floors. A professional janitorial and office cleaning service provides deep cleaning by using commercial cleaning equipment and their own supplies.
You get a customized solution for all the worries related to cleanliness. A professional cleaning service makes sure to cater to all the points in your checklist and leave you satisfied. Get the highest cleaning standards by outsourcing the cleaning process of your company.
We are a professional janitorial and office cleaning service based in Aurora, Ontario. We offer customized services that will leave your office premises spotless and clean. The RBC Clean team ensures that you have a squeaky clean and organized workplace with happy clients and employees.
For more information about our janitorial and office cleaning services, call RBC Clean at 1-855-493-9259 or contact us online.