7 Office Cleaning Tips to Follow Before Going on Summer Vacation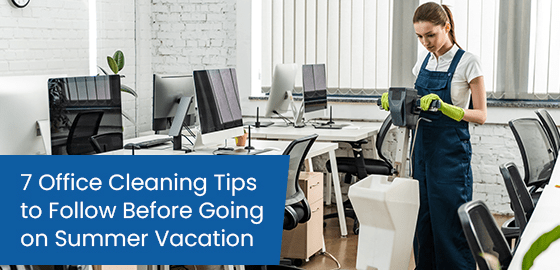 Summer vacations are highly anticipated and the most popular time for people to take leave. When you work in an office, it's very easy to clutter your desk and not realize it until you come back, take one look, and then start planning your next getaway.
With that in mind, here are a few tips to make returning to work easier and have your office space clean and ready to go.
1. Make a checklist
Take a few minutes to compile a list of what needs to be done. Which rooms need the most attention, and which ones just need a quick wipe-down?
If you are just looking after your workspace in a shared office, then this list will be a lot smaller. This is because you don't have to worry about other people's spaces unless you are all leaving for a corporate vacation. In that case, make a list and then delegate chores to other co-workers to make it easier and faster.
While making the checklist, see what supplies you have and if you need to restock anything. Knowing what and where to start is one thing. Not having the products you need is something else, as you don't want to be scrambling the day before you leave.
2. Organize your workspace
In almost all offices, the paperwork you have on a day-to-day basis is important and sometimes even confidential.
The last thing you want to do is leave an unorganized desk with papers visible for everyone to see. This can lead to a breach of privacy and other issues. Additionally, when you come back from vacation, all that work stress will come flooding back faster when you see a messy, cluttered desk.
Sort and file all your paperwork before you go. Shred what you need to, and file what you need to keep. Lock things away that are of high value and confidential.
This will also help with cleaning the desk. It's easier to wipe down and clean clear spaces instead of trying to move things around, disrupt, and possibly topple stacks of important papers and folders.
3. Pre-clean before the actual clean
In the few days leading up to the actual clean, you can start by doing a pre-clean. This includes removing clutter from the areas on the checklist. Clutter can be anything, such as too many dishes or Tupperware in the kitchen or overflowing recycling bins.
Rooms need to remain functional but minimal to make them easier to clean. This doesn't mean that you cannot have personal items, but removing them before you go prevents loss while you are gone.
If you are starting to declutter several days before the big clean, take a moment to vacuum or sweep the floor. This will help you go faster on cleaning day.
4. Take care of the kitchen
The kitchen is often the common area for employees and the heart of the company. Here, meetings are held, gossip is swapped, and breaks are taken.
It can also be the place where leftovers go to perish. There is nothing worse than going away for a week and then returning to items that have been left to evolve on their own.
Check the dates on shared items, and remove anything about to expire (or has already) or you don't want to be shared while you are gone. Give the shelves and door seal a quick wipe down, and place a small box of baking powder in the back. This will help keep the fridge fresh, clean, and smelling great when you return.
5. Clean the restrooms
Don't overlook the importance of the restrooms. For staff and/or the public, these areas should be disinfected more often than other high-traffic spaces.
Ensuring all surfaces, fixtures, and toilets are cleaned properly is essential. Adding extra bowl cleaner to keep things fresh while you are away is always a good thing.
6. Clean other high-traffic spaces
Other high-traffic areas, such as waiting rooms and elevators, should be cleaned and disinfected on a regular basis.
An extra wipe-down before you go helps to keep these spaces cleaner for longer. Vacuuming carpeted areas helps to reduce allergens and dust particles. If you have hardwood or laminate floors, then a brief sweep and possible mop will do the same.
If you are closing the office while you are away, this will help prevent the build-up of bacteria and naturally-occurring dust for longer. When you return, it's easier to quickly wipe everything before you reopen to the public, staff, and clients.
7. Use air fresheners
Once you have done your cleaning, the air can still become stale. Often, windows are closed for extended periods of time, doors are closed, and the AC is turned down low or off, as there is no one in the office.
Air fresheners will aid in the clean smell lasting longer and removing the stale smell that could greet you when you return.
Avoid anything too overpowering. A Hawaiian smell that is too strong won't remind you of your holiday as much as it will put off clients coming into the office. They don't need to go into every room; one freshener per high-traffic area or one on your desk that has a neutral fragrance will suffice.
Leave It to the Professionals
For larger spaces that have higher demands on cleaning and time, a professional cleaning company can take the pressure of a good, thorough clean off your shoulders.
Working after-hours to avoid disturbing the last few crucial days before you leave is an immense advantage. All the important spaces will be looked after, as well as the less essential ones that you may not have thought about.
For office cleaning in Vaughan, RBC Clean has the professionals you can trust to ensure your office is cleaned before you go, leaving you free to enjoy your well-earned vacation. Call us at 1-855-493-9259 or get a free quote online, and let's help you clean up before you go.