8 Tips for Keeping Your Office Kitchen Clean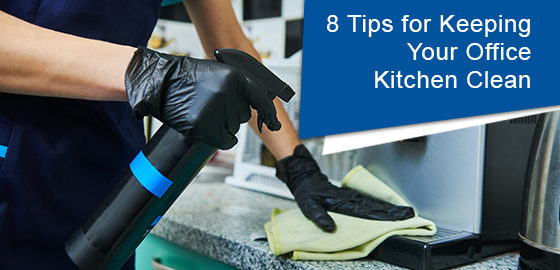 As a business owner, manager, or employer, you must prioritize the health of your staff, provide a clean workspace, and ensure that your employees work under excellent conditions.
An office kitchen is usually one of the least clean areas because of high traffic. During breaks, the kitchen becomes a germ hotspot because of dirty dishes, food crumbs, and sometimes overflowing trash. Under these conditions, employees can fall sick, thus tarnishing your business image.
If you worry about how you can keep your office kitchens clean, we at Royal Building Cleaning Ltd., a commercial cleaning services company in Vaughan, have your back. Here are eight tips that will help you keep your office kitchens or break rooms clean and germ-free to protect your staff and keep them healthy.
1. Install a "clean up after yourself" policy
Unfortunately, not all employees will clean up after they have made a mess. Some would rather leave the job of cleaning to others, which makes many office kitchen countertops overflow with dirty utensils, food stains, and trash.
Although it is common knowledge that such habits as leaving trash lying on the floor will breed germs and rodents, these unhygienic practices continue due to the laid-back attitude of some employees.
Implementing a "clean up after yourself" policy will check dirty practices in the office kitchen. It will ensure that your staff clean up after making a mess.
2. Organize the office kitchen
Keeping the office kitchen clean is about much more than just getting rid of dirt. Organizing your kitchen is another way of keeping your kitchen clean. Cluttered environments with stacked items will become hiding spots for germs and pose a risk to the health of your staff.
Providing a designated space for coffee cups, spoons, plates, towels, and dish-cleaning products will greatly reduce clutter on kitchen countertops. With the number of people going in and out of break rooms, kitchen items can get misplaced.
Additionally, with the conversations that occur in these kitchens, it is easy for employees to get distracted, causing them to put items away in the wrong spots. So, using visual cues like labelling kitchen cabinets will enable your employees to put things away in their correct positions even when distracted.
3. Take the trash out
Leaving trash anywhere except the trash can is unhealthy. Not only will garbage breed germs, but also attract rodents and insects. Trash will also produce terrible smells, and you obviously do not want to subject your employees and office kitchens to these conditions.
Aside from the health hazard that leaving trash in the kitchen will cause, it may also demand extra costs from your management. If the garbage attracts rodents, for example, you will need to call an exterminator to avoid an infestation.
Encourage your employees to take out the trash regularly to protect their health. There should not be garbage piling up in the kitchen at all. You cannot have germs and rodents around, or people will get sick.
4. Clean the office kitchen regularly
You want to regularly clean the office kitchen to ensure that it is in safe conditions and germ-free. Creating a weekly routine for cleaning appliances, countertops, and utensils is a good approach to keeping your office kitchen clean.
During these weekly cleanings, you should wipe high-touch areas like microwave buttons, refrigerator handles, dishwasher handles, and door handles to ensure they are properly disinfected.
5. Make kitchen utilities available
So far, we have listed four tips to keep your office kitchen clean. Still, these tips will be useless if utilities such as paper towels, waste bins, dish brushes and soap, mops, garbage bags, and hand soap (among others) are unavailable to your employees.
They cannot clean a water spill without mops, just as cleaning dishes without dish soap is impossible. If you do not provide these utilities, you will create an unsanitary kitchen for your employees and anyone else making use of the kitchen.
Besides providing utilities, you need to ensure that they are accessible. As well, you must make certain they are available in good quantities to all employees.
6. Create awareness
As obvious as it may seem to take the trash out, wash dirty dishes, and clean spills, many employees often forget to do these simple tasks. One way to bring your employees' attention to keeping the office clean is by raising awareness of the issue.
You can do so by having visual cues like pictures on the walls around the kitchen and the entire office. You can also organize educational cleaning seminars for your employees to educate them on proper hygienic practices in the kitchen.
Creating an awareness of the problem and how to fix it will go a long way in helping keep your office kitchen clean.
7. Use disposable items
Instead of using dish sponges that harbour germs and dirt, you can use disposable dishcloths and then throw them out immediately after use.
Another item in the kitchen that may breed germs is a hand towel. Several people using a single towel is unhealthy. It would be best to consider using paper towels to reduce the spread of germs around the office.
Other disposable items such as paper cups and plates will reduce the number of dirty dishes in the kitchen sink.
8. Hire a commercial cleaning service company
With you and your employees doing your part to keep the office kitchen clean, there are still some limitations because you are not professionals.
Professional cleaning companies like Royal Building Cleaning know what to clean and how best to do so. Our cleaning teams always ensure that they meet your objectives.
With our commercial cleaning services, you get the full customer service experience, and we follow up with our clients to ensure they are happy with our work. We provide quality jobs on time.
Where can you hire a commercial cleaning service?
If you need to hire a commercial cleaning service in Vaughan, Royal Building Cleaning Ltd. is your best choice. With our years of experience in the cleaning industry, we will leave your office kitchen spotless and germ-free.
To learn more about our commercial cleaning services or book an appointment, please call us at 1-855-493-9259 or email us here.