Can Your Facility Handle the Next Wave of COVID-19?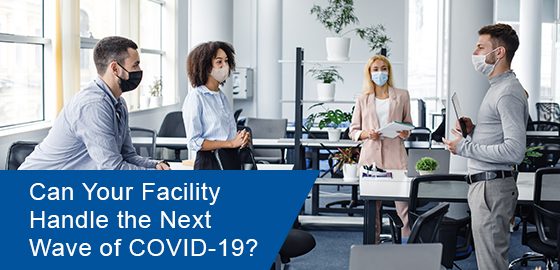 Over the course of the pandemic, many businesses have suffered from drastic economic losses, and with the new variant on the rise, things aren't exactly looking up. In fact, according to several medical experts and professionals, business owners and corporations should be well-prepared with enhanced janitorial services to take on yet another wave of COVID-19 that may be lurking just around the corner.
However, preparing your business for another wave brings several challenges, including learning how to tackle certain obstacles regarding employee well-being, dealing with company finances, and keeping spread of the virus within your facility to a minimum. For small businesses especially, keeping your company afloat may become a major task, but with enough experience and expertise, you can pass these hurdles as they come.
Ensuring your facility is fully prepared to handle the ups and downs of the pandemic could provide you with benefits such as better business management, more efficient employees, and increased financial stability. Fortunately, in this article, you will learn about some of RBC Clean's tips to keep your facility organized during the next potential wave.
How could the next wave affect your business?
The pandemic has caused immense uncertainty surrounding businesses, putting stress on corporations and forcing many companies to shut down under the weight of the pressure. This includes financial loss, significant drops in the number of in-person customers, and an inability to switch to remote work.
A major factor of all this distress has to do with a lack of knowledge and being ill prepared to handle a pandemic. In the next wave, being experienced and knowledgeable about operating a business during a pandemic will thus pay off tremendously.
For those who are unprepared, though, the next wave could temporarily or even permanently impact your business in terms of revenue, quality, and overall performance. However, now that there is some wisdom to be had from making it through past COVID-19 waves, your business is more likely to remain open and thriving if you follow some simple steps to prepare your facility for the next wave.
5 Steps to Prepare Your Facility for the Next Wave
Some of the ways that you can prepare for another wave of COVID-19 include, but are not limited to, the following 5 simple steps:
1. Review the way your business handled past waves
Part of being a successful business-owner means looking at mistakes and learning from them. After over a year of dealing with the pandemic, most businesses should now have enough knowledge to look back on past experiences and pinpoint where they could do better.
Were you understanding and lenient toward your employees, providing them with helpful resources and ways to cope with the pandemic? Did you act quickly enough to remain financially comfortable as the pandemic progressed? Was revenue an issue, and how did it affect the business as a whole?
Upon reflection of these questions, see where your business went wrong and set plans in motion to fix issues and improve methods the next time around.
2. Stock up on essential items
At the beginning of the pandemic, were you able to stock up on essential supplies to last throughout the foreseeable future? If not, you may want to take stock and inventory more seriously.
Essential items include face masks, disposable gloves, cleaning and disinfecting supplies, and anything else that should be rightfully accessible to employees and clients during the pandemic. Ensure that your facility has enough storage space to properly store all of the supplies coming in to mitigate your company's experience of the pandemic.
3. Have a detailed business plan
Mapping out where you want to take your business should there be any major losses or changes to services is important. For instance, during the COVID-19 pandemic, we have seen in-person businesses switch entirely to remote services done through online shopping and deliveries.
With a high likelihood for more lockdowns and people quarantining at home, many clients will need to access services digitally. In lieu of the next wave, prepare to offer multiple modes of client engagement to keep your business running as smoothly as possible. In the meantime, plan for any business and financial ventures to cope with the industry's ever-changing market.
4. Maintain high sanitation standards
The number one priority you should have to prepare your facility for another wave is keeping sanitation standards high. Not only does investing in good janitorial services make your business look better to prospecting clients in terms of quality and appearance, it also dramatically helps to reduce transmission of COVID-19 within your facility.
If little to no employees are staying home sick or quarantining and more work is being done inside the facility, then workflow becomes better and more efficient. Consider putting a protocol in place to ensure that your employees are following important hygiene techniques such as hand-washing and disinfecting highly-touched surfaces.
5. Hire janitorial and office cleaning services
Janitorial services are a great way of maintaining the cleanliness and sanitation of your facility, while also putting less pressure on staff members who utilize the space daily. Not only does hiring a janitorial service ensure that your facility is kept clean, it also decreases levels of anxiety in employees and customers who visit, as they can be assured that high levels of sanitation and disinfection are occurring.
During the pandemic, cleaning is vital to maintaining health and safety. Luckily, RBC Clean is a reliable and renowned janitorial and office cleaning company that offers exceptional services to offices and business facilities in need of regular cleaning.
A Safer Workplace With RBC Clean
As a business owner, one of your priorities should be keeping your employees and clients safe and satisfied. Naturally, their health and well-being also applies to the conditions of the workplace and environment.
If you are looking to enhance your business quality by prioritizing your facility's cleanliness, look no further than RBC Clean to provide you with a superior clean and top-notch janitorial services. With our team of cleaning professionals, your business can have more potential for success during the next wave.
For all your cleaning and pandemic preparation needs in Toronto and the GTA, as well as more information on our janitorial services, contact RBC Clean by telephone at 1-866-278-8208 or 289-800-7694.