COVID-19: Why Regular Commercial Cleaning Is Now Essential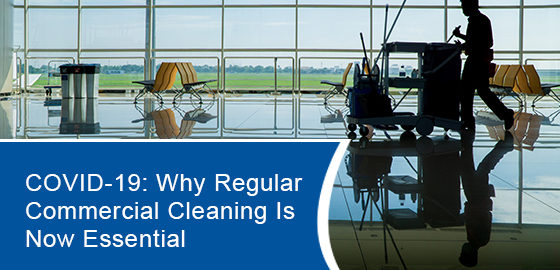 Now more than ever, regular commercial and office cleaning for your business is essential to the well-being of your employees and your business as a whole. 
With COVID-19 restrictions being lifted and more employees re-entering the office physically, it makes sense that businesses should be held to higher standards when it comes to regular office cleaning. 
Whatever cleaning measures you had in place prior to COVID-19 should now be doubled.
Not only will you find that employees and customers alike are fearful and cautious when it comes to restrictions being lifted, but you will also see cleaning measures being scrutinized and criticized if they are not up to par. 
This can easily hurt the growth and potential of your business if you are not mindful of your customer's or clients' needs. Read below to learn more about why you should implement professional cleaning services for your business today. 
Restrictions Being Lifted
With COVID-19 restrictions and mask mandates being lifted, we still have to exercise caution when it comes to being in the public. 
This means using sanitizer, staying home when sick, and keeping up with other cleanliness practices. 
You, your employees, and your customers spend a lot of time in your workspace. This is why keeping it clean, fresh and free of dirt and germs is so important.
Just because restrictions are being lifted doesn't mean we should throw caution to the wind. We should now be even more mindful of others and continue to do our due diligence to keep cases low and our community healthy. 
More People in the Office
As more people return to the office, businesses need to accommodate them by maintaining the appropriate cleaning standards. 
You certainly don't want employees becoming sick or spreading germs within the office. Maintain social distancing with cubicles and desks, and also remember to put out sanitizing stations for your clients and employees to use.
More people in the office can easily spread the virus if we are not careful. 
This is why your business should look at professional cleaning services to keep infection rates under control and give your employees peace of mind to return to work safely. 
Clean and Disinfect
With professional office cleaning, you get what you pay for. 
This means high-quality cleaning services with a reputable company. Make sure to do your due diligence and read reviews or ask questions before hiring one company over another.
Ensure appropriate cleaning products are being used (ones that both sanitize and disinfect), and that these products are safe for use and non-toxic. 
A good cleaning company will use the right products and techniques so that you don't have to do guesswork. 
Keep Employees Safe
Ultimately, regular cleaning helps keep your visitors, employees, and clients safe. 
It removes dust and allergens from the air and keeps your employees from getting sick or distracted. They can work productively and in peace without attending to additional cleaning tasks.
As an employer, you have a duty to your employees, and keeping a clean office is part of that duty. You want your employees to remain healthy, happy, and dedicated to their work. 
Regular Scheduling
With professional office cleaning, you can create a schedule that works around yours, and that doesn't interfere with work hours. 
For example, cleaning staff can come in after-hours or before your employees arrive on site. 
You can also have direct access to a cleaning team should an emergency arise or if someone contracts COVID-19 and surfaces need to be cleaned and disinfected as soon as possible.
This scheduling ensures that you will always have a hand in cleaning whenever you need it. After all, cleaning itself is a big task that requires full attention. 
A professional cleaner can focus in on details and areas that you may not usually get to or have the time for. 
Take one thing off your plate and hire professional cleaners for your office today. 
Efficient Professional Services
As previously mentioned, professional cleaners come with experience, the tools for the job, and know what they are doing. 
They are well worth the money as no job is too big for them to tackle. If you want fast, reliable, and efficient service, look no further than the professionals.
With professional janitorial and office cleaning services, you can stay up to date on cleaning without it being an added stress. 
Neither you nor your employees should ever have to add cleaning tasks to your to-do list or pick up the slack on a bad cleaning job. 
Hire reputable professionals and get the job done right the first time around.
For more information on commercial cleaning in Toronto and the GTA, please call RBC Clean at 1-866-278-8208 or contact us here. 
Our representatives are industry professionals and can help you find the perfect cleaning solutions to fit your schedule and budget. Please contact us today for more information and to schedule a consultation.