How Often Should You Deep Clean Your Office?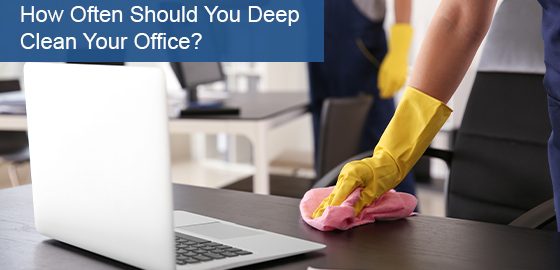 Take a good look at your office. When was the last time you had it deep cleaned? If you can't remember, it may be time to schedule some commercial cleaning.
Offices tend to be very high traffic places. You frequently have people coming in from the outside with dirty shoes and boots, which can track mud and dirt. It can get even worse in the winter with people tracking in snow and slush.
People are also eating in your office, either at their desks or the lunch tables. That can lead to crumbs falling on the floor and even getting mashed into the carpet. Crumbs on desks and lunch tables can create a breeding ground for bacteria and pests.
That's why your office needs to have frequent deep cleanings. It helps maintain a healthy and clean environment for you and your employee, making them more productive and less likely to get sick with the cold or the flu.
At RBC Clean, we offer professional commercial cleaning services in Markham as well as the greater GTA. The commercial cleaning products we use will clean and sanitize all of your office surfaces, so you know you're coming into a well-cleaned office.
We'll tell you about:
How often you should deep clean your office floors
How often you should deep clean your upholstery
How often you should clean desks and workspaces
How often should I have my office floors deep cleaned?
Given the changing seasons, it's impossible to keep your office floors clean. It rains a lot in the spring and fall, so your employees may track in mud or leave puddles on the floor. In the winter, it's snowy, and your employees may track in slush. You can put some preventative measures into place like having mats at the entrance, but it's impossible to guarantee every employee will come into the office with clean shoes.
It would help if you had your office floors and carpets cleaned at least a few times a year. A deep clean will help ensure that all allergens, bacteria, and deep-set dirt are removed from your carpets.
For areas that see a lot of traffic, you may need deep cleaning done more often:
We recommend that moderately high-traffic areas in your office — such as hallways and meeting rooms — are deep cleaned every few months.
We recommend that high-traffic areas such as kitchens and bathrooms are deep cleaned as frequently as once a month.
How often should I have the upholstery in my office deep cleaned?
Another place in your Markham office that needs commercial cleaning is the upholstery on your chairs and other furniture. Fibres in upholstery can trap everything from dead skin cells to dirt, making them a perfect host for bacteria.
While you should have your upholstery deep cleaned at least once a year, we recommend you have areas that see many different people using them — like meeting rooms or lobbies — deep cleaned once every three months. If you have a flexible seating arrangement in your office, where employees sit in different locations each day, we recommend having the desk chairs deep cleaned more frequently.
How often should I have desks and workspace in my office deep cleaned?
In addition to your floors and upholstery, you also need to have your office cubicles deep cleaned. Employees should clean their workspace and equipment regularly using cleaning and disinfecting wipes — especially if you have a flexible seating arrangement. These measures will help reduce the risk of spreading germs and people getting sick.
Even if your employees or regular cleaning staff do frequent wipe downs, this is no substitute for deep cleaning. We recommend having desks and workspaces in your office deep cleaned at least twice a year.
Get Started with Deep Cleaning
There are so many good reasons to get your office deep cleaned. A good deep cleaning will help your office look better, as well as ensuring that it's germ-free for your employees. A cleaner-looking office is excellent for employee morale, and a germ-free office cuts down on the number of employees who will get sick during the cold and flu season.
We've talked about all of the following:
How often you should deep clean your office floors to take care of tracked-in dirt and debris.
How often you should deep clean your upholstery to make sure it's clean and bacteria-free.
How often you should use deep clean desks and workspaces to get those hard to reach crumbs and bits of garbage.
At RBC Clean, we want to help you with your commercial cleaning needs in Markham, Toronto and beyond. We are located in Aurora and service all of Southern Ontario and the GTA. When you book with us, you know that your office will be deep cleaned by experienced professionals you can trust.
For more information about how often you should deep clean your office, call RBC Clean at 289-800-7694 or contact us here.