How to Keep Your Reception Area Clean and Welcoming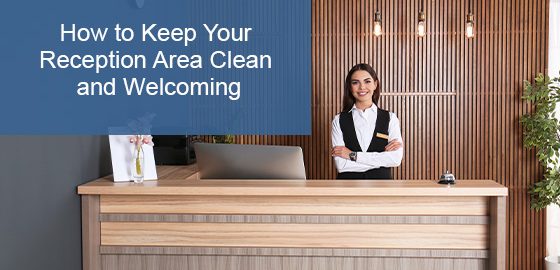 When running a business and offering professional services to the public, it's important to reinforce and establish a good reputation by keeping a neat, tidy, and inviting reception area. When you think about it, the reception area is the first thing that customers and potential clients will see and judge your business on. It is essentially the first impression that you make to newcomers.
While a dirty and unkempt reception area will seem disorganized and unproductive, a clean and attractive front desk area will convince clients that your business is not only organized, but also professional and ready to serve them properly. In order to make the right first impression, follow these helpful tips below to keep your front desk space clean, professional, welcoming, and on-brand.
Clear the Air
Nothing can deter your customers and potential clients from visiting your office like stale air and bad odours in your reception area. Many customers will go running for the hills if they get even a small whiff of something repugnant or unpleasant. This is why it's so important to keep your reception area smelling fresh. Never leave out old food, and take out the trash daily. You might consider keeping some air freshener cans or plug-in scent diffusers handy just in case something foul-smelling starts wafting through your office.
Another great idea is to keep an air purifier on or leave a window open to improve air circulation. Remember, you want your customers to have a pleasant experience when they visit your office, so you need to banish all bad odours and keep your office smelling fresh and clean.
Offer Refreshments
Nothing says warm and inviting more than a nice cup of tea or a fine mug of coffee. If you'd like to go the extra mile in making your business stand out, offer some sort of refreshments at your reception area, such as coffee and tea. If it isn't too much trouble, you might think of offering some baked goods to go with that nice cup of coffee.
All you need to invest in is a coffee maker and you're set! Have the receptionist ask all clients that come in if they'd like a drink while they're waiting and your customer satisfaction score is sure to go up. Make sure to keep sugar, cream, tea bags, and cups in stock at all times, and make sure there's some filtered water nearby should your guests ask for a glass of water.
Go for a Minimalist Look
In order to keep your reception area neat and tidy, you should go for a design or a look that is easily organized, maintained, and clutter-free. Try searching online for minimalistic designs to find sources of inspiration for your office redesign. Put out some comfortable chairs or seating in the waiting area and a small coffee table nearby. Bring out a rack for magazines and books that guests can read while waiting. This makes their experience with you more relaxing and enjoyable, increasing the chances that they will come back again.
You might even consider putting up a television screen for better entertainment. Regardless, you will want your reception area to be clean, minimal, and effective. Guests will need some form of entertainment while they wait, and a comfy seat so they don't have to stand the whole time!
Have the Floors Cleaned Regularly
A clean and tidy floor says a lot about a company and/or business. Cleaning your floor and taking items off of it can quickly clear up space and instantly make any room look much neater. Make every effort to keep your floors clear of clutter and sparkling clean, even if this means hiring professional carpet or floor cleaners.
The reception floor usually requires frequent attention, as it is where most people come in and out, leaving tracks behind (especially on rainy days). This is something you will have to be mindful of, particularly in the winter when snow and slush come into play.
Outsource Cleaning Services
We know that cleaning can take up a lot of precious business time that can be better put to use for the needs and profits of the company. Furthermore, it can be especially unfair to delegate extra cleaning tasks to your staff. Most often, these tasks get put on the backburner or don't get given the proper attention. Your reception area needs a thorough cleaning regularly, and your customers and staff deserve this benefit as well.
If you are short on time, it would be a great plan to hire professional janitorial services and office cleaners. With professional cleaners, you can be sure they are always using the best products to clean and disinfect surfaces, while ensuring the longevity of your office appliances, furniture, and flooring.
When rethinking your reception space, you don't have to go it alone. There is professional help and consultations available to get your front desk space in shape and ready for business. At RBC Clean, we understand better than anyone the cleaning needs of your business and commercial space. Our team of dedicated staff will be sure to go that extra mile to make your customers smile.
For more information on professional cleaning and janitorial services, please call RBC Clean at 1-866-278-8208 or contact us here. While we are located in Aurora, we proudly serve all of the GTA and Southern Ontario for your convenience. Contact us today for more information or to get a free quote.